January 21, 2012
2012 Season - 4 Vikings pick up wins at Midwest Invitational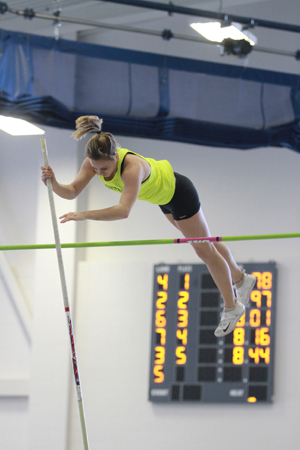 Sophomore Taelar Hillyer won the pole vault at Saturday's Midwest Indoor Invitational in Monmouth, Illinois, clearing 10' 6".
MONMOUTH, Ill. - Individual wins by sophomores Taelar Hillyer (Alleman Catholic HS, Bettendorf, Iowa) and Kierra Smith (Creston HS, Creston, Iowa), freshman Krista McCurrie (Stagg HS, Palos Park, Ill.) and junior Sarahbeth Jones (Warren Township HS, Wadsworth, Ill.) highlighted Augustana's performance at Monmouth College's Midwest Indoor Invitational Saturday. McCurrie also added a win with the Viking 4x400 relay team. No team scores were kept.
Hillyer cleared 10' 6" to win the pole vault while Smith ran a :45.13 to win the 300, finishing ahead of teammate Johanna Schnitzler (Downers Grove South HS, Woodridge, Ill.), who was second in :46.77. McCurrie also edged out a teammate, running a 1:45.73 in the 600 to finish ahead of second-place Lorriane Stamberger (La Moille HS, La Moille, Ill.) (1:47.21). Viking Alicia Hughes (Oswego HS, Oswego, Ill.) was fifth in the same event with a time of 2:08.54. Jones ran a winning 10:16.73 at 3000 meters, while Annie Heifner (Oregon HS, Oregon, Wis.) was fourth in 11:11.95.
The Viking 4x400 relay team recorded a winning time of 4:17.07. McCurrie ran the second leg, while Schnitzler ran anchor. They were joined by Kate Benge (Pleasant Valley HS, Bettendorf, Iowa) and Rachael Latham (Burlington Central HS, Elgin, Ill.).
Smith garnered a second in the 60-meter hurdles with a time of :09.48, while Schnitzler was fifth in :10.36. Schnitzler also took fourth in the high jump, clearing 4' 9".
Senior Morgan Gale (Oregon HS, Oregon, Ill.) captured a pair of second-place finishes, running an :08.41 in the 60 and a :27.89 at 200 meters.
Jessica Bacon (Rock Island HS, Rock Island, Ill.) and Benge finished second and third in the mile, as did Amanda Rodriguez (Mahomet-Seymour HS, Mahomet, Ill.) and Melissa Lehpamer (Plainfield South HS, Plainfield, Ill.) in the 5000. Bacon and Benge finished in 5:22.24 and 5:30.68, while Rodriguez and Lehpamer ran 20:47.58 and 20:54.77, respectively. At 800 meters, Kelsey Moon (Mundelein HS, Wauconda, Ill.) ran a second-place 2:37.68, Hailey Jacobs (Woodstock HS, Woodstock, Ill.) a fourth-place 2:46.08 and Amanda Pease (United Township HS, East Moline, Ill.) a fifth-place 2:48.66.
Astin Moravek (Riverside-Brookfield HS, Riverside, Ill.) finished third in the triple jump (33' 3") and fourth in the long jump (14' 11 ¼"). Augustana also had Samantha Bazely (Alleman HS, Coal Valley, Ill.) and Lauren Polizzi (Crystal Lake South HS, Crystal Lake, Ill.) finish fourth and fifth in the triple jump, going 31' 8" and 31' 6", respectively.
In the 400, Latham and Jennifer Prazak (Naperville North HS, Naperville, Ill.) finished second and third. Latham ran a 1:04.94, while Prazak finished in 1:05.62.
Gale, Catherine Foreman (St. Joseph-Ogden HS, St. Joseph, Ill.), Taylor Tjardes (Gibson City-Melvin-Sibley, Gibson City, Ill.) and Kate Dinkel (Maharishi HS, Fairfield, Iowa) made up the Vikings' third-place 4x200 relay team. That unit finished in a time of 1:55.13.
In the weight throw, Amber Gruber (Rolling Meadows HS, Arlington Heights, Ill.) captured fifth place with a 42' 2" heave.
Coach Fred Whiteside's Vikings will be competing in the Wartburg Invitational on Saturday, January 28.