January 21, 2012
2011-12 Season - Vikings eighth at Grinnell Invitational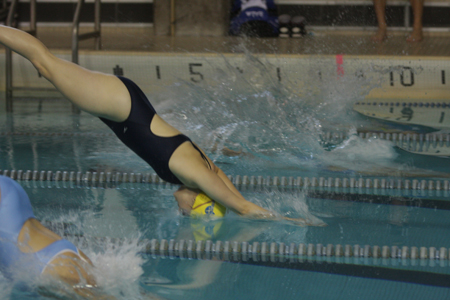 Emma Regnier earned points in four events Saturday to help Augustana to an eighth-place finish at the Grinnell Invitational.
GRINNELL, Iowa-Augustana junior Emma Regnier (Grayslake North HS, Lake Villa, Ill.) scored points in four events on day two of the Grinnell Invitational Saturday to help the Vikings finish eighth in the final team standings. Regnier garnered a sixth-place finish in the 100 breaststroke, took 18th in the 100 butterfly and swam on the 20th-place 400 freestyle and 22nd-place 200 medley relays.
Regnier swam a 1:13.10 in the 100 breaststroke while freshman teammate Laura Pemberton (Fremont HS, Fremont, Neb.) took 19th place in a time of 1:17.95.
Sophomores Helen Myers (Pecatonica HS, Rock City, Ill.) and Hillary Ferguson (Waubonsie Valley HS, Naperville, Ill.) claimed top ten finishes as well for the Vikings. Myers finished sixth in the three meter diving competition with a total of 358.75 points. Ferguson was seventh in the 50 freestyle with a time of :25.84. Junior teammate Alexandra Piper (Coal City HS, Coal City, Ill.) finished 17th with a :26.30.
Junior Molly Clennon (Benet Academy, Naperville, Ill.) claimed 14th place in the 200 freestyle in a time of 2:05.99 and junior Emily Timmons (West Aurora HS, North Aurora, Ill.) was 19th in both the 1650 freestyle (20:02.29) and 400 individual medley (5:14.90).
The 400 freestyle relay team consisted of Clennon, Piper, Regnier and Freguson while Clennon, Timmons, Regnier and Ferguson comprised the 400 medley relay unit.
Gustavus Adolphus took the team championship with 1247.5 points followed by Nebraska-Omaha with 980.5. It was a tight battle for the next three spots as third-place Luther (545) edged out St. Catherine and Grinnell, who tied for fourth with 538 points. Macalester (421) finished sixth, followed by Nebraska-Kearney (312), Augustana (256), Coe (224), Simpson (109) and the College of Saint Mary (92).
Next up for coach Scott Johannsen's squad is a diving competition at the University of Illinois on January 28, followed by Monmouth College's Quad Meet on February 4. Western Illinois and Valparaiso will be the others competing at Monmouth.