January 21, 2012
2011-12 Season - Augustana downs Carthage 90-70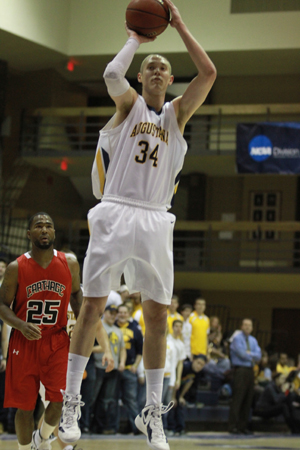 Senior Bryant Voiles scored 14 points and tied for game-high honors with eight assists and four rebounds as Augustana defeated Carthage 90-70 at Carver Center Saturday night.
ROCK ISLAND, Ill. -19th-ranked Augustana used excellent balance offensively Saturday night to defeat Carthage 90-70 at Carver Center. Senior Troy Rorer (Bettendorf HS, Bettendorf, Iowa) led four Vikings in double figures with 17 points and Augustana shot .593 from the field, including 11 of 22 from three-point range to improve to 13-4 on the season 3-3 in the CCIW. Carthage falls to 8-9 overall and 2-4 in the league.
Once again, it was freshman Mark Roth (Washington HS, Metamora, Ill.) who got the Vikings started with his long range shooting. After Bryant Voiles (Byron HS, Byron, Ill.) and Brian DeSimone (Buffalo Grove HS, Wheeling, Ill.) each scored a pair of buckets to stake the hosts to an 8-4 lead, Roth hit the first of his five first-half treys to push the lead to 11-4.
A George Dexter (Bettendorf HS, Bettendorf, Iowa) jumper from the free throw line with 11:26 left in the half upped the lead to 15-6, but the Red Men battled back behind the scoring of Tyler Pierce and Reese Herth to cut the gap to one (23-22) with 6:16 to go before halftime. A basket each by Augustana co-captains Voiles, DeSimone and Rorer extended the advantage to 29-22 and Roth connected from beyond the arc four times in the final 4:40 of the half as the Vikings closed the period on a 24-7 run to take a 47-29 lead at intermission.
Both teams came out hot in the second half, as Carthage scored on each of its first four possessions. Max Cary and Nick Bauch each had two baskets in that stretch. However Augustana answered with baskets on four of its first six possessions after halftime, including two threes by Rorer and one by DeSimone that put Augustana up 58-37 with 16:21 to go.
Both offenses continued to click the rest of the way, but Carthage was never able to get closer than 17 and the margin was at 20 or better for the final 12:57 of the game.
Augustana again had excellent balance on offense. In addition to Rorer's 17, Roth tied a career-high with 15, Voiles added 14 and DeSimone 12. The fifth Viking starter, Kevin Schlitter (Maine South HS, Park Ridge, Ill.) just missed double figures with eight and Danielius Jurgutis (Downers Grove South HS, Darien, Ill.) and Brandon Kunz (Lake Zurich HS, lake Zurich, Ill.) each contributed seven points off the bench.
Rorer and Voiles each had eight of the Vikings 29 assists in the contest and tied teammate Griffin Dwyer (Hersey HS, Arlington Heights, Ill.) with a team-high four rebounds as well.
Herth led the Red Men with 17 points.
Next up for coach Grey Giovanine's Vikings is a Tuesday, January 24 contest against Wheaton at Carver Center. Tipoff is scheduled for 7:30 p.m.