January 21, 2012
2011-12 Season - Vikings fall to hot-shooting Carthage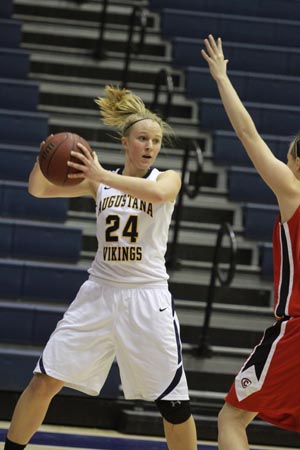 Senior Natalie Runge led Augustana with 17 points and she hauled down four rebounds in the Vikings' 75-52 loss against Carthage on Saturday, January 21 in the Carver Center.
ROCK ISLAND, Ill. - After playing to a 25-25 tie at halftime, Augustana fell victim to a hot-shooting Carthage team in the second half in a 75-52 loss to Carthage on Saturday, January 21 in the Carver Center. The Lady Reds shot .690 (20 of 29) in the final 20 minutes to pull away and secure the victory.
In the first half the Vikings' defense held Carthage to just .323 (10-31) from the field and forged a 25-25 deadlock. The Lady Reds opened the second half with a 19-2 run to race out to a 44-27 lead with 13:45 remaining in the game.
Senior Natalie Runge (St. Dominic's HS, O'Fallon, Mo.) led Augustana with 17 points on four of four from the field and nine of 10 from the free throw line. She pulled down four rebounds and had an assist as well. Sophomore Molly Etheridge (Normal HS, Bloomington, Ill.) was the only other Viking in double figures with 10 points.
Senior Kris Howard (Cherokee Trail HS, Aurora, Colo.) led Augustana in rebounding with six as the Vikings were beaten on the boards by a margin of 47-31.
Carthage got 23 points and eight rebounds from Diana Jacklin and 13 points and eight boards out of Cailee Corcoran. The Lady Reds had 23 assists in the game with Allison Groessl and Stephanie Kuzmanic each posting five.
Augustana falls to 9-8 overall and 1-5 in the College Conference of Illinois & Wisconsin while Carthage is now 13-4 and 4-2.