January 20, 2012
2011-12 Season - Holt school record in 100 back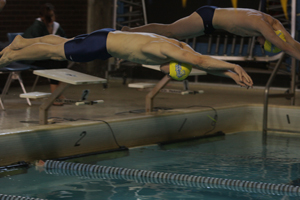 Freshman Aaron Holt set a school record in the 100 backstroke Friday at the Grinnell Invitational at Grinnell, Iowa. Holt took second place in that event and also captured second in the 200 individual medley to help put the Vikings in third place after day one.
GRINNELL, Iowa - Led by the school record performance of freshman Aaron Holt
(Mount Vernon HS, Mount Vernon, Iowa)
, Augustana finished day one of the Grinnell Invitational in third place on Friday, January 20 in Grinnell, Iowa. Grinnell leads the team standings in the seven-team event with 606 points while Gustavus Adolphus is second with 599 and the Vikings totaled 360 points in third. Luther (348), Macalester (125), Simpson (85) and Coe (84) rounded out the field.
Holt was the story for the Vikings as he placed second in the 100 backstroke with a time of :53.55, erasing Matt Simcock's time of :53.59 in 2003 from the record books. Holt also placed second in the 200 individual medley in 1:59.98 and swam on two place-winning relay teams.
He led off the 200 freestyle relay that placed fourth in 1:30.59. Joining him were senior Charlie Vogt (Oak Park-River Forest HS, Oak Park, Ill.), freshman Michael Duy (Marmion Academy, Aurora, Ill.) and sophomore Daniel Hinck (Harlem HS, Loves Park, Ill.). He also handled the leadoff leg on the sixth place 400 medley relay that recorded a time of 3:49.24. The other members of that unit were sophomore Jasen Hengst (Bettendorf HS, Bettendorf, Iowa), Greaves and Vogt.
Hinck finished second in the 500 freestyle with a season's best time of 4:55.81. The 500 freestyle turned out to be a big point event for the Vikings as they scored 83 points. Duy took third in 5:01.21, Zarbuck was fifth at 5:02.19 and Greaves was sixth with a time of 5:02.20.
The 800 freestyle relay team of Greaves, Zarbuck, Duy and Hinck grabbed second in 7:17.51. Greaves was the runner-up in the 200 butterfly in 2:04.04 with Duy taking sixth in 2:07.75. Freshman Josh Wielenga (School of Environmental Study, Apple Valley, Minn.) scored 345.05 in the three meter diving event and was second.
Sophomore Ryan Chaney (Pleasant Valley HS, Bettendorf, Iowa) finished ninth in the 200 breaststroke in 2:28.92. Vogt was ninth in the 100 freestyle with a time of :50.89 with Hinck taking 10th in :51.0.
The final day of competition will be Saturday, January 22.