January 19, 2012
2011-12 Season - Schraidt pin lifts Vikings past Chicago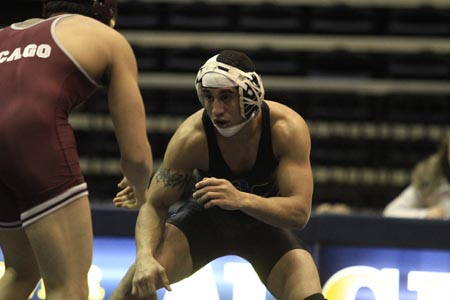 On "Senior Night", Alberto Quiros came up big for 30th ranked Augustana as he defeated Josh Hotta of Chicago 2-1 at 149 pounds with a takedown with just :24 left in the match. Augustana defeated the Maroons 22-18 to move to 8-4 on the season.
Freshman John Schraidt (Riverside-Brookfield HS, Riverside, Ill.) came up with a pin just before the buzzer sounded ending the first period of his 285 pound match against Chicago on Thursday, January 19 in the Carver Center. Schraidt's fall, which came at 2:57 over the Maroons' Jeff Tyburski, proved to be the margin of victory as 30th ranked Augustana defeated Chicago 22-18.
The Vikings were trailing 18-16 heading into Schraidt's match. He was ahead 6-1 at the time of his pin over Tyburski. The victory moved Schraidt's record to 22-5 on the year.
Augustana won six of the 10 weight classes but Chicago garnered bonus points in all four of its winning matches (three major decisions and a pin).
Two of the Vikings' victories came with takedowns in the closing seconds. Senior Alberto Quiros (Morton East HS, Cicero, Ill.) scored a takedown with just :24 left at 149 pounds to defeat Josh Hotta 2-1 and move his record to 27-6 for the season. Junior Matt Burns (Naperville Central HS, Naperville, Ill.) waited even longer to seal his match at 165 pounds. His takedown of Devon Range gave Burns a 3-1 victory and pushed his record to 19-11.
Junior Steve Poffenberger (Allegan HS, Paw Paw, Mich.) beat Frankie Acosta 17-5 at 133 pounds and junior Greg Gogonas (Bowie HS, Austin, Texas) beat Joe Ellis 8-6 at 141 pounds. Poffenberger is now 20-9 and Gogonas 12-11 for the year. Sophomore Jordan Richardson (Grandville HS, Wyoming, Mich.) accounted for the other Viking points when he beat Ryley Hankenson 7-2 at 174 pounds.
Augustana is now 8-4 on the season while Chicago is 5-5. The Vikings will compete in the Wheaton Duals on Saturday, January 21 in Wheaton, Illinois.
Thursday, January 19, 2012
Carver Center
Rock Island, Illinois
#30 AUGUSTANA 22, CHICAGO 18
125 - Jake Schramm (C) beat Thomas Browne (A) 10-2
133 - Steve Poffenberger (A) beat Frankie Acosta (C) 17-5
141 - Greg Gogonas (A) beat Joe Ellis (C) 8-6
149 - Alberto Quiros (A) beat Josh Hotta (C) 2-1
157 - James Layton (C) beat David Tessiatore (A) 9-1
165 - Matt Burns (A) beat Devon Range (C) 3-1
174 - Jordan Richardson (A) beat Ryley Hankenson (C) 7-2
184 - Sam Pennisi (C) beat Matt Regnier (A) 12-3
197 - Mario Palmisano (C) pinned Hunter Feraco (A) @ 6:52
285 - John Schraidt (A) pinned Jeff Tyburski (C) @ 2:57
RECORDS: Augustana 8-4 & Chicago 5-5