More Augie applicants admitted to dental school
January  19, 2012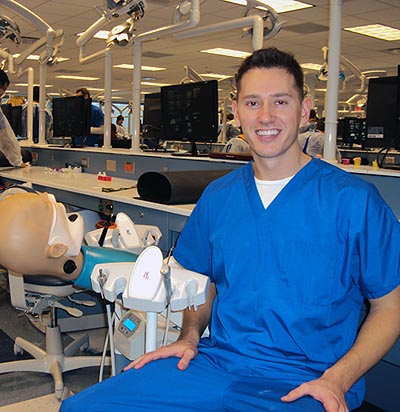 Augustana alumnus Jason Carlson, now a student at Midwestern University College of Dental Medicine, Downers Grove, Ill.
Over the past three years, 66 percent of Augustana students applying to dental school have been accepted. "This rate is significantly higher than the national average of 45 percent," said Dr. Jason Koontz, coordinator of Augustana's pre-dentistry program and a member of the faculty since 2004.
"Dentistry is currently a fantastic field, and Augustana College provides exceptional preparation for students wishing to become dentists," Dr. Koontz said. "Once in dental school, our alumni have performed exceedingly well, earning Augustana an outstanding reputation among dental schools."
At Augustana, the pre-dentistry program is a pre-professional program rather than a traditional major. "We have designed it in this way intentionally. We are a liberal arts college, and Augustana is not in the business of producing dentists," Dr. Koontz said. "Rather, Augustana helps educate citizens who go on to become dentists."
John Cairns, a senior biology major from Naperville, Ill., talked about applying to dental school. "The liberal arts curriculum was a great asset to have, setting me apart from many of the other applicants," he said. Cairns already has been accepted to dental school for next year.
"The liberal arts has provided me with a great foundation of knowledge in a variety of fields," he continued, "while very successfully teaching me how to problem-solve and look at issues from different perspectives."
Like Cairns, most Augustana students aiming for dental school choose to major in either biology or biochemistry, and many students double-major.
Small classes, big relationships
The campus environment strengthens the curriculum. At Augustana, professors with doctoral degrees teach the classes, not teaching assistants, and class sizes are small. Biology classes seldom enroll more than 45 students.
Augustana alumnus Jason Carlson, now a student at Midwestern University College of Dental Medicine, Downers Grove, said, "The small classroom size allowed me to feel comfortable asking questions. I would be lost right now without that foundation."
Carlson explained that small class sizes also yield close, beneficial relationships. "The faculty at Augie are by your side, and want you to succeed," he said. "I think it would be harder to stay focused at a large university where you are more isolated."
From 'Becoming Biologists' to Senior Inquiry
A unique aspect of the pre-dentistry program at Augustana is the biology department's Integrated Reflection and Inquiry in the Sciences (IRIS) curriculum. The IRIS curriculum is embedded into the core biology classes, beginning with a seminar course for first-year students, "Becoming Biologists."
"One of the strengths of our IRIS program is that we focus not only on learning the content of the biology major, but we also focus attention on the strengths and weaknesses of the learner to help each student become the best learner possible," Dr. Koontz said.
Typically three years after that beginning class, Senior Inquiry is a culminating senior capstone experience. Through Senior Inquiry, students are able to bring their liberal arts education full circle, demonstrating what they've learned and preparing for future careers as dentists.
Next step: dental school
Augustana prepares pre-dentistry students to apply to any of the approximately 50 U.S. dental schools. Many of those institutions are at state-supported universities and give priority to their state's residents. "Therefore," Koontz said, "your best chance for acceptance is often at the dental school in your home state or a private dental school.
"As an academic advisor, I tell my students that higher grade-point averages (GPAs) and Dental Admission Test (DAT) scores enhance their chances of admission into a dental school. Generally, we recommend a GPA of 3.60 or above and DAT scores above 19 out of 30," said Dr. Koontz.
Dental schools want applicants to have a good understanding of the dental field, especially through clinical observations. While many undergraduate schools require students to obtain experience on their own, Augustana's mentoring program and Career Development Center help students gain clinical experience during the school year. Students can participate in Augustana's internship program. This allows students to earn academic credit by working in a dental clinic for one term.
With the help of the Internships Office, Cairns arranged a summer internship at the Community Health Care Dental Clinic, Davenport, Iowa. He said, "I'm confident that that unique opportunity helped my application stand out to review committees and provided me with excellent experience to speak of during the interview process.
"I truly believe that my choice to follow the Augustana pre-dentistry program made me a marketable applicant, provided me with the skills to be successful in dental school and placed me in an amazing network that will undoubtedly be beneficial for years to come."
In Dr. Koontz's words, "Augustana graduates do not merely survive dental school. They succeed!"