January 19, 2012
2011-12 Season - Wrestlers back in NCAA ranking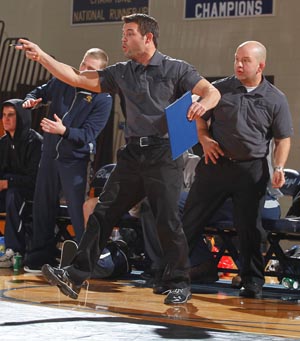 Augustana head coach Eric Juergens reacts to action earlier this year. Juergens and the Vikings are currently ranked 30th in NCAA Division III wrestling.
With a 7-4 dual meet record, Augustana has moved back into the NCAA Division III wrestling rankings. The Vikings of head coach Eric Juergens are 30 th in the latest Brute-adidas poll compiled by the National Wrestling Coaches Association.
The Vikings started the season ranked 21 st but fell out of the poll before making an appearance this week following a solid showing at the Central of Iowa Tournament on Saturday, January 14 in Pella, Iowa. Although no team scores were kept in that tournament, three Augustana wrestlers did win individual weight classes. Senior Alberto Quiros (Morton East HS, Cicero, Ill.) was the champion at 149 pounds while sophomore Jordan Richardson (Grandville HS, Wyoming, Mich.) took first at 174 and freshman John Schradit (Riverside-Brookfield HS, Riverside, Ill.) won at 285.
In addition to those three championships, junior Steve Poffenberger (Allegan HS, Paw Paw, Mich.) was second at 133 and junior Hunter Feraco (Gull Lake HS, Battle Creek, Mich.) took second at 197 pounds.
Augustana is 7-4 so far this season with wins over Knox (48-6), Central of Iowa (21-10), Simpson (28-12), Loras (25-14), Wisconsin-Platteville (36-6), Hannibal-LaGrange (49-3) and Trine (26-24). The only losses so far this season have come to nationally ranked teams. The Vikings fell at 13 th ranked Elmhurst 27-12 on November 30, lost at home to sixth ranked Cornell 34-6 on December 16, dropped a 27-11 decision to 10 th ranked Luther on January 7 in Galesburg, Illinois and lost to North Central 27-18 on January 12. North Central is not ranked now but was 29 th at the time of the match.
Quiros leads the team in victories with his 26-6 record while Richardson is currently 23-5 and Schraidt has compiled a mark of 21-5. Poffenberger is 19-9 while Feraco is 18-8. Junior Matt Burns (Naperville Central HS, Naperville, Ill.) is 18-11 while holding down the regular spot at 165 pounds. Sophomore Abe Duran (East Aurora HS, Aurora, Ill.) and Seaman have also posted good records at 285. Duran is 13-6 and John Seaman (Crown Point HS, Crown Point, Ind.) is 13-7. The combined records of the three Augustana 285 pounders are 47-18.
Juergens, who is now in his fifth season as the Terry & Sandy Shockley Head Wrestling Coach at Augustana, has compiled a 15-10 record over the past two years after going 11-30 through the first three years. Juergens has compiled an overall record of 27-40 in five years at the Vikings' helm.
Augustana will host the University of Chicago on Thursday, January 19 at 7:00 p.m. in the Carver Center and then travel to Wheaton, Illinois on Saturday, January 21 for the Wheaton Invitational.
2012 NCAA DIVISION III WRESTLING RANKING
Compiled by the National Wrestling Coaches Association
Weekly ranking #6
| | | | |
| --- | --- | --- | --- |
| RANK | TEAM | RECORD | PREVIOUS RANKING |
| 1 | Wartburg | 11-1 | 1 |
| 2 | Augsburg | 4-1 | 2 |
| 3 | Wisconsin-LaCrosse | 14-2 | 4 |
| 4 | Coe | 6-2 | 5 |
| 5 | Ithaca | 8-2 | 3 |
| 6 | Cornell | 6-2 | 6 |
| 7 | SUNY-Cortland | 10-0 | 8 |
| 8 | Olivet | 11-4 | 10 |
| 9 | St. John's | 6-4 | 7 |
| 10 | Luther | 9-2 | 11 |
| 11 | York | 12-2 | 12 |
| 12 | Wisconsin-Whitewater | 9-7 | 18 |
| 13 | Elmhurst | 9-2 | 9 |
| 14 | Mount Union | 3-3 | 24 |
| 15 | Concordia-Moorhead | 4-5 | 13 |
| 16 | Wilkes | 9-3 | 14 |
| 17 | SUNY-Brockport | 1-0 | 15 |
| 18 | Dubuque | 1-2 | 16 |
| 19 | Wisconsin-Oshkosh | 1-0 | 17 |
| 20 | Delaware Valley | 7-6 | NR |
| 21 | Messiah | 5-4 | 19 |
| 22 | Springfield | 1-0 | 23 |
| 23 | Wabash | 3-1 | 30 |
| 24 | Ohio Northern | 3-3 | 26 |
| 25 | Wisconsin-Stevens Point | 3-6 | 28 |
| 26 | Stevens Institute of Technology | 7-3 | 20 |
| 27 | College of New Jersey | 4-2 | 21 |
| 28 | Johnson & Wales | 6-2 | 22 |
| 29 | Thiel | 1-1 | 27 |
| 30 | AUGUSTANA | 7-4 | NR |