January 18, 2012
2011-12 Season - Turnovers cost Vikings in loss to North Park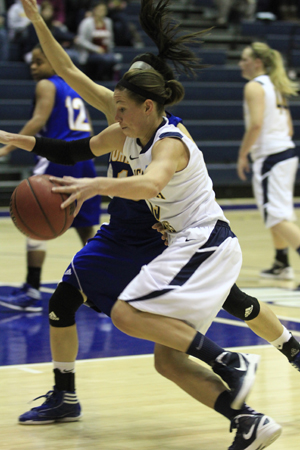 Senior Allie Scaggs scored a career-high 14 points Wednesday at Carver Center, but it wasn't enough to keep Augustana from falling 64-58 to North Park.
ROCK ISLAND, Ill. - Despite outshooting and outrebounding the visitors from North Park Wednesday night, Augustana was unable to come away with a victory. North Park took advantage of 27 turnovers by the hosts to earn a 64-58 win at Carver Center. The loss drops Augustana to 9-7 overall and 1-4 in the CCIW, while North Park improves to 7-9 on the year and 1-4 in the league.
Each team had a pair of 5-0 runs to start the game. The hosts jumped out in front on a Gianna Pecora (Downers Grove South HS, Darien, Ill.) three-pointer and two free throws from Natalie Runge (St. Dominic HS, O'Fallon, Mo.). After North Park rattled off five in a row, Augustana senior Allie Scaggs (Porta HS, Petersburg, Ill.) hit a layup and a three-pointer before the visitors answered with a free throw and two field goals by Roxanne Jones to tie it again at 10-10.
From there, the contest settled into a see-saw affair with nine lead changes over the next ten minutes. Neither team managed an advantage of more than three points until North Park's Annie Shain drained a three-pointer with 2:03 left in the half, giving the visitors a 30-24 lead. Another Shain trey and a pair of Dominikque Williams free throws pushed the lead to 35-24 before two Chaney Tambling (Dwight HS, Dwight, Ill.) freebies with three-tenths of a second left cut the margin to 35-26 at the half.
North Park maintained an advantage of no less than seven points through the first 12 and a half minutes of the second stanza. Augustana's deficit reached its largest at 13 (48-35) with 10:21 left. The host were able to whittle away however, with Molly Etheridge (University HS, Bloomington, Ill.) twice hitting jumpers to cut the lead to six. Scaggs hit a jumper to make it 54-50 and Kristina Howard (Cherokee Trail HS, Aurora, Colo.) hit one of two freebies on the Vikings' next possession to cut the deficit to three with 4:30 remaining.
After a North Park turnover, Tambling hit a jumper from the elbow and was fouled. However, her potential game-tying free throw rimmed out and Scaggs was called for a foul on the rebound. Jones converted both ends of the one-and-one and a jumper on North Park's next possession to push the lead to 58-53. Etheridge hit a jumper with 2:21 left and one of two free throws at the 1:27 mark to make it 59-56, but that's as close as the hosts would get.
Runge and Scaggs tied for Augustana scoring honors with 14 each. Tambling added 10 to go along with a team-high eight rebounds. North Park's Jones was the game's leading scorer and rebounder with 18 and nine, respectively. Augustana shot .404 from the field to .382 for North Park, although the visitors made twice as many three-pointers (six) and hit 16 of 23 free throws as compared to 13 of 23 for the hosts. Augustana also held a commanding 46-33 edge on the boards, but turned it over 27 times to just 17 for North Park.
Next up for coach Bobbi Endress' Vikings is a 5:30 p.m. contest against Carthage on Saturday, January 21 at Carver Center.