January 18, 2012
2012 Season - Deep & talented Vikings ready for 2012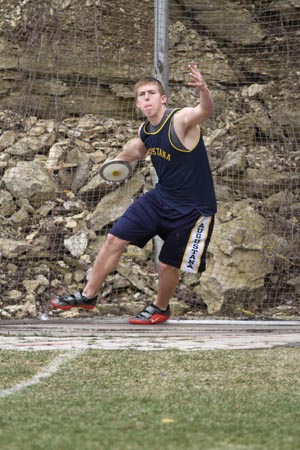 Senior Phil Christensen is a three time NCAA Division III All-American in the discus throw. He also holds the Augustana school record in the event.
Following a superb 2010-11 campaign that saw veteran coach Paul Olsen's team finish second in the NCAA Division III dual meet rankings, the Augustana men's track & field team comes into the 2012 season a seasoned and talented crew. Olsen will have a stable of national qualifiers and all-conference athletes to turn to in his 44th season at the helm of the program.
"Once again, we have fantastic balance with talent and depth in every event," said Olsen, whose Viking's broke two school records last year. "One thing that I see in this team is an increase in the level of maturity across the board. We will be in the hunt to win and place in every event at every meet."
The Vikings finished second in both the indoor and outdoor College Conference of Illinois & Wisconsin meets a year ago, falling short to eventual national champion North Central both times. During the outdoor campaign, Augustana won the Viking Olympic meet on March 26 as well as the Meet of Champions on April 16. The squad collected second place finishes in both the Wartburg Select meet on April 2 and the Lee Calhoun Invitational on April 9.
Ten national meet qualifiers return to anchor the Viking lineup, led by three time All-American discus thrower Phil Christensen (Kaneland HS, Maple Park, Ill.). Augustana also returns seven outdoor conference champions from a year ago.
Brian Benning (Winnebago HS, Winnebago, Ill.), Greg Davis (Carlinville HS, Carlinville, Ill.), Matt Deets (Polo HS, Polo, Ill.), A.J. Nice (Christian Life HS, Caledonia, Ill.), Billy Tenbusch (Prairie Ridge HS, Cary, Ill.), Mike Tisza (Hersey HS, Prospect Heights, Ill.) and Christensen will all serve as captains for the 2012 Viking Squad.
EVENTS BREAKDOWN
SPRINTS- The short sprints will be anchored by junior Alex Rindone (Marmion Academy, Geneva, Ill.), who has won both the College Conference of Illinois and Wisconsin (CCIW) titles in the 100 and 200 in each of his first two seasons. He shattered the school record last year in the 200, running :21.21. Rindone was also on the national qualifying and conference meet record 400 and 1600 meter relay teams. Fellow junior Greg Patton (Bloomington HS, Bloomington, Ill.) joined him on the both relay teams, and qualified individually in the 400 as well. He will continue to spearhead the 400 and hold down a spot on both relays. They are joined by two other all-conference athletes, classmate Daniel Doubet (Galesburg HS, Galesburg, Ill.), who was a part of the 1600 relay that went to nationals and sophomore Jay Graffagna (Geneva HS, LaFox, Ill.), a member of the national qualifying 400 relay.
The squad is bolstered by the healthy return of veteran juniors Jake O'Rourke (Assumption HS, Davenport, Iowa.) and Floyd Mays (Mooseheart HS, Justice, Ill.). Both will contribute in the 100 and 200 meter events. A promising freshman class features Brandon Jasper (Central HS, DeWitt, Iowa.), Nolan Savage (Arapahoe HS, Highland Ranch, Colo.), and Keith Cline (Byron HS, Byron, Ill.)
HURDLES- Davis is a multiple time NCAA provisional qualifier and conference champ in both hurdle events and will lead a talented group into the 2012 season. Fellow senior Marty King (Oswego HS, Oswego, Ill.) also returns with a load of all-conference honors to his name, and will contribute at both distances. King and Davis will be joined by freshmen David Voland (Batavia HS, Batavia, Ill.) and Kyle Bennett (West HS, Davenport, Ill.), both of whom Olsen thinks will make immediate contributions to the team.
MIDDLE DISTANCE - The 800 and 1500 meter crews will be decidedly younger than in previous years, but Olsen thinks the group has an overall maturity and experience that defies their age. The squad will be bolstered by the return of fifth year senior and multiple all-conference runner Brad Keating (Cary Grove HS, Cary, Ill.), who sat out last outdoor season after a bout with mononucleosis. Junior Justin Smith (Fenton HS, Bensenville, Ill.) narrowly missed all-conference honors a year ago, and will both be counted on again in the 1500. The veterans will be joined by junior Dennis O'Flaherty (Sandburg HS, Orland Park Ill.), as well as freshmen Alex Odenkirk (Ironwood Ridge HS, Tuscon, Arizona), Matt Simo (York HS, Elmhurst, Ill.), and Nick Gornick (York HS, Elmhurst, Ill.).
In the 800, a group of talented veterans are finally healthy and prepared to contribute. Joe Zahn (Moline HS, Moline, Ill.) returns after an all-conference showing in last year's outdoor CCIW championships. Joining him in the half mile will be sophomores Chris Madison (South HS, Downers Grove, Ill.) and Edgar Valle (Kaneland HS, Elburn, Ill.), and freshman Vincenzo Dal Pozzo (Neuqua Valley, Naperville, Ill.).
DISTANCE- Tisza won the outdoor CCIW title in the 5,000 meters last year, and looks to contribute again in both the 5000 and 10,000 meter races. An extremely deep distance squad will also feature fifth year Matt Bowman (Geneva HS, Elburn, Ill), an All-American a year ago in cross country and Brian Pollastrini (York HS, Elmhurst, Ill.), who was a NCAA qualifier in the 10,000 a year ago. They will be joined by veteran juniors Jonathon Smith (Moline HS, Moline, Ill.) and Nathan Smith (Fenton HS, Bensenville, Ill.).
A solid steeplechase crew is led by TenBusch, an all-conference performer from a year ago, and fellow senior Thomas Christian (Port Angeles HS, Port Angeles, Wash.). The duo will be joined by junior Tommy Harris (Assumption HS, Davenport, Iowa.), and sophomores Tyler Busch (Winnebago HS, Winnebago, Ill), Isaac Trostle (Willowbrook HS, Lombard, Ill.) and Alex Stockwell (Glenbard West HS, Glen Ellyn, Ill.).
FIELD EVENTS- Christensen earned his third straight NCAA All-American award in the discus last season, placing sixth overall. The much-decorated senior will be joined by fellow classmates and NCAA qualifiers Brian Benning (Winnebago HS, Winnebago, Ill.) and Adam Myers (Dixon HS, Dixon, Ill.) in leading a strong crew in the throws. Luke Anderson (Lemont HS, Lemont, Ill.) and Mike Anderson (Richmond-Burton HS, Spring Grove, Ill.) will handle the javelin duties.
The high jump will feature last year's CCIW conference champion Nick Sinon (Kaneland HS, Elburn, Ill.), as well as freshmen Mike Krusza (South HS, Plainfield, Ill.). The horizontal jump crew will be led by senior Mike Tovar (Mooseheart HS, Chicago, Ill.), sophomores Scott Pospisil (Geneva HS, Geneva, Ill) and Trevor Raupp (Warren Township HS, Wadsworth, Ill.), and freshman Torre Harrell (Bloomington HS, Bloomington, Ill.).
Olsen thinks the pole vaulting crew will be deep and balanced, anchored by senior captain Nice and junior Colton Vankirk (Rochelle HS, Rochelle, Ill.). The decathlon squad is filled with talent, led by Deets and juniors Ethan Gale (Oregon HS, Oregon, Ill.) and Kyle Williams (Lake Zurich HS, Lake Zurich, Ill.). Sophomore Joshua Eisenberg (Richmond Burton HS, Spring Grove, Ill.) was a letter winner in the event a year ago as well.
Story written by Pat Manser, student assistant in the sports information office.