January 17, 2012
2011-12 Season - Augustana gets back on track with 73-52 win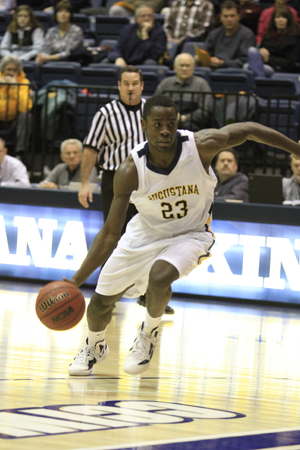 Senior Troy Rorer scored 13 points to lead four Vikings in double figures as Augustana claimed a 73-52 win over North Park Tuesday night at Carver Center.
ROCK ISLAND, Ill.-Troy Rorer (Bettendorf HS, Bettendorf, Iowa) led four Augustana players in double figures with 13 points Tuesday night as the 19th-ranked Vikings defeated North Park 73-52 at Carver Center. With the win, Augustana improves to 12-4 on the year and 2-3 in the CCIW. North Park drops to 5-11 overall and 1-4 in the league.
Freshman Mark Roth (Washington HS, Metamora, Ill.), making his first start, buried a pair of three-pointers in the first five minutes as the hosts took an 8-5 lead. His third trey of the half gave Augustana a 15-10 lead with 9:43 to go until halftime. A Brian DeSimone (Buffalo Grove HS, Wheeling, Ill.) three-pointer at the 8:42 mark extended the lead to 18-12 and six different Vikings combined for the team's last 14 points of the half. A drive and score by Chris Anderson (West Carroll HS, Mt. Carroll, Ill.) gave the hosts their biggest lead of the opening 20 minutes at 28-20 and it was equaled thirty seconds later when Danielius Jurgutis (Downers Grove South HS, Darien, Ill.) hit a jumper from the top of the key to make it 30-22. Rorer hit one of two free throws with five seconds left to give Augustana a 32-25 lead at the break.
The hosts shot .523 (12 of 23) from the field in the first half, including a 3-for-4 performance by Roth, all from beyond the arc. Augustana also held North Park to .303 (10 of 33) shooting and outrebounded the visitors by a 24-13 margin, but committed 15 turnovers to keep the margin in single digits.
A traditional three-point play by Rorer sparked a 7-3 Augustana run to start the second half, resulting in an 11-point lead, but behind five points from Kendall Greer and four from Mike Gabriel, North Park responded with a 9-0 run of its own to cut the deficit to two at 39-37.
Again showing great balance, Augustana answered with a 13-4 to regain its double-digit lead. Six different Vikings tallied field goals in the spurt, which started with a Bryant Voiles (Byron HS, Byron, Ill.) put-back and also included Roth's fourth three-pointer of the night.
The visitors cut the lead to single digits briefly, but a Rorer three-pointer from the left wing pushed the margin back to 58-46 with 5:37 left. A DeSimone steal and feed led to a Rorer dunk with 4:08 left, giving the hosts a 64-48 advantage. A Griffin Dwyer (Hersey HS, Arlington Heights, Ill.) three, another strong drive and bucket by Anderson and four points from sophomore Kevin Schlitter (Maine South HS, Park Ridge, Ill.) rounded out the night's scoring as Augustana coasted to the 21-point win.
In addition to Rorer's 13 points, Roth finished with 12. DeSimone added 11 points, a game-high five assists and three steals. Voiles scored 10 to go along with a game-high 12 rebounds. Junior Brandon Kunz (Lake Zurich HS, Lake Zurich, Ill) had a nice all-around effort off the bench with seven points, six rebounds, three assists and four blocked shots. North Park's Emanuel Crosby was the game's leading scorer with 19 points. Augustana shot .551 from the floor on 27 of 49 and hit seven of 17 (.412) three-pointers. North Park was held to .357 shooting from the field and was outrebounded 41-22 for the game.
Augustana continues its five-game home stand Saturday, January 21, hosting Carthage in a 7:30 p.m. contest at Carver Center.