January 14, 2012
2012 Season - Jones wins mile, Vikings second at Sol Butler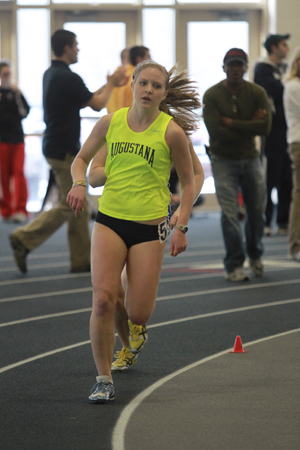 Junior Sarahbeth Jones won the mile at the Sol Butler Classic in 5:15.38 to kick off the indoor season for the Vikings. Augustana placed second in the nine team event on Saturday, January 14 in Dubuque, Iowa with 114 points.
DUBUQUE, Iowa - Junior distance runner Sarahbeth Jones (Warren Township HS, Wadsworth, Ill.) picked up right where she left off from the fall on Saturday, January 14 at the Sol Butler Classic in Dubuque, Iowa. Jones, who was the team MVP in women's cross country, won the mile in Augustana's first indoor meet of the 2012 campaign.
Jones ran 5:15.38 and won by 25 seconds, showing that her fitness level certainly hasn't dropped any. She was lone individual winner for veteran head coach Fred Whiteside's team as the Vikings scored 114 points to finish second in the nine-team meet.
Monmouth won the team title with 154 points and Augustana was 40 points back in second place. Mount Mercy was third with 103, Clarke finished fourth with 71 and Coe took fifth with 60. Loras (54), Dubuque (37), William Penn (29) and Edgewood (12) rounded out the field.
While Jones was the only winner, there were four Vikings who placed second in individual events. Sophomore Kate Benge (Pleasant Valley HS, Bettendorf, Iowa) was the runner-up in the 800 with a time of 2:24.13. In fact, a total of four Augustana runners garnered places in the 800. Freshman Jessica Bacon (Rock Island HS, Rock Island, Ill.) placed third in 2:24.45 and freshman Lorraine Stamberger (LaMoille HS, LaMoille, Ill.) was fifth in 2:28.85 and junior Jennifer Prazak (Naperville North HS, Naperville, Ill.) took sixth in 2:32.63.
The other three Vikings to finish second were sophomore Taelar Hillyer (Alleman Catholic HS, Bettendorf, Iowa), freshman Astin Moravek (Riverside-Brookfield HS, Riverside, Ill.) and sophomore Liana Beauchamp (Genoa-Kingston HS, Genoa, Ill.). Hillyer cleared 10' 6" in the pole vault while Moravek jumped 33'6" in the triple jump. Beauchamp tossed the shot 39' 8 ¾" and then came back and placed fifth in the weight throw with a mark of 45' 6 ¼".
Hillyer also ran the anchor leg on the 800 relay that placed fourth in 1:53.99. She was joined on that unit by sophomore Kierra Smith (Creston HS, Creston, Iowa), senior Catherine Foreman (St. Joseph-Ogden HS, St. Joseph, Ill.), and Morgan Gale (Oregon HS, Oregon, Ill.).
The 1600 relay team of Smith, Benge, freshman Krista McCurrie (Stagg HS, Palos Park, Ill.) and Jones was third in 4:15.49.
While placing four runners in the 800 was impressive, in the mile there were five Augustana athletes scoring points. While was winning the event, junior Annie Heifner (Oregon HS, Oregon, Wis.) grabbed third in 5:41.45 and freshman Lizzie Lundine (Willowbrook HS, Villa Park, Ill.) was fifth in 5:53.43. Senior Sarah Johnson (Grayslake North HS, Lake Villa, Ill.) took seventh in 5:56.79 and sophomore Emma Grandgeorge (Sycamore HS, Sycamore, Ill.) was eighth in 6:17.54.
Smith placed third in the 55 hurdles with a time of :09.12 and junior Amanda Rodriguez (Mahomet-Seymour HS, Mahomet, Ill.) was third in the 3000 in 11:54.11. McCurrie was fifth in the open 400 in 1:03.21.
Freshman Laura Polizzi (Crystal Lake South HS, Crystal Lake, Ill.) was sixth in the triple jump with a leap of 31' 5 ¼". Freshman Veronica Bertellotti (Prospect HS, Mount Prospect, Ill.) took seventh in the same event with a mark of 30' 9" and junior Samantha Bazely (Alleman Catholic HS, Coal Valley, Ill.) was eighth at 30' 6 ¼". Sophomore Johanna Schnitzler placed seventh in the 55 hurdles in :09.62 and seventh in the high jump with a leap of 4' 9". Gale cleared 8' 0 ½" in the pole vault to take seventh. Senior Amanda Gruber (Rolling Meadows HS, Arlington Heights, Ill.) had a toss of 40' 2 ¾ in the weight throw to place seventh. Freshman Kerri McGrail (Plainfield North HS, Plainfield, Ill.) finished eighth in the 3000 with a time of 12:04.66.