January 14, 2012
2011-12 Season - Vikings win six events but fall to Luther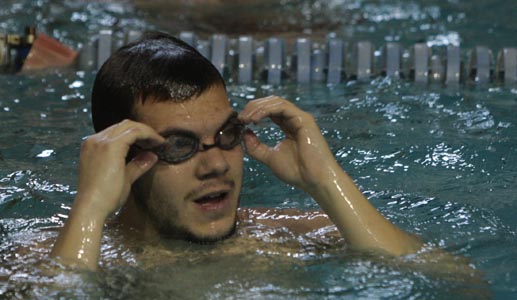 Junior Chris Greaves won the 1000 freestyle on Saturday, January 14 against Luther with a time of 10:43.30.
DECORAH, Iowa - Less than 24 hours after defeating Coe in a dual meet at home, the Augustana men's swimming & diving team boarded a bus and travelled to Decorah, Iowa to tangle with the Luther Norse. Despite double victories from sophomore Daniel Hinck (Harlem HS, Loves Park, Ill.) and freshman Josh Wielenga (School of Environmental Study, Apple Valley, Minn.), the Vikings fell 129-92 on Saturday, January 14.
Hinck won the 200 freestyle in 1:47.79 and the 500 freestyle in 5:03.08 while Wielenga took first in the one meter diving with 144.55 points and the three meter diving with 202.25 points.
Freshman Aaron Holt (Mt. Vernon HS, Mt. Vernon, Ill.) won the 100 butterfly in :54.50 and took second in both the 400 individual medley (4:33.35) and 100 backstroke (:55.22).
Junior Chris Greaves (Morris HS, Morris, Ill.) provided the other victory for Augustana with a win in the 1000 freestyle as he stopped the watches at 10:43.30. He was also fourth in the 100 butterfly in :57.92.
Senior Charles Vogt (Oak Park-River Forest HS, Oak Park, Ill.) placed second in the 100 freestyle (:50.25) and third in the 50 freestyle (:23.28). Freshman Michael Duy (Marmion Academy, Aurora, Ill.) was third in the 200 freestyle (1:51.28) and the 100 freestyle (:50.59). Sophomore Austin Zarbuck (Urbana HS, Urbana, Ill.) placed second in the 500 freestyle (5:13.77) and third in the 1000 freestyle (10:44.77). Sophomore Jasen Hengst (Bettendorf HS, Bettendorf, Iowa) was fourth in the 100 breaststroke.
Augustana is now 2-2 in dual meets and will compete in the Grinnell Invitational on Friday, January 20 and Saturday, January 21 in Grinnell, Iowa