January 14, 2012
2011-12 Season - Buzzer beater beats Vikings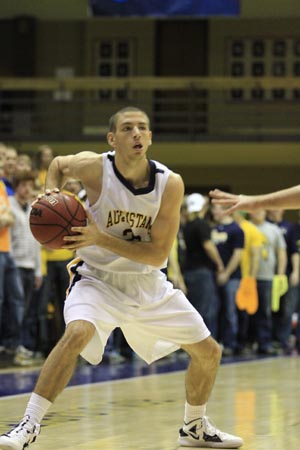 Freshman Mark Roth led Augustana in scoring with 15 points during the Vikings' 56-55 loss at Elmhurst on Saturday, January 14.
ELMHURST, Ill. - After overcoming an eight point deficit in the final four minutes to regain the lead, Augustana lost a heartbreaker at Elmhurst on Saturday, January 14 in College Conference of Illinois & Wisconsin action. The Bluejays' Zack Boyd hit the game winner with just three tenths of a second remaining on the clock to give Elmhurst a 56-55 victory.
It was the third straight loss for head coach Grey Giovanine's Vikings and this one came despite a valiant effort in the final four minutes. The Vikings trailed by eight points (50-42) with 3:42 left to play after Boyd drained a three point field goal. The margin was immediately trimmed to five (50-45) at 3:24 when Augustana freshman Mark Roth (Washington HS, Metamora, Ill.) answered with a three pointer of his own.
Elmhurst's Brandon Grubl scored at 2:44 to make it a seven point margin (52-47) but junior Brandon Kunz (Lake Zurich HS, Lake Zurich, Ill.) scored off an assist from Roth at 2:34 to trim things back to five (52-47). With 2:11 left Roth drained a three to make it 52-50.
After Jerome Robinson scored to push the Elmhurst advantage back to four points (54-50) at 1:53, senior Troy Rorer (Bettendorf HS, Bettendorf, Iowa) hit a three point field goal at 1:06 to make it a one point game (54-53). Rorer then came up with a steal with exactly 1:00 left on the clock and he made both free throws to give Augustana a 55-54 lead.
Boyd missed a three point field goal attempt with :31 left and Augustana's Griffin Dwyer (Hersey HS, Arlington Heights, Ill.) grabbed the rebound. The Vikings missed a free throw with :19 left and Elmhurst's James Robertson rebounded. With :11 remaining, the Bluejays took a time out to set up Boyd's game winner.
Augustana led 30-25 at halftime and with 13:48 to play had an eight point cushion (40-32). The Bluejays went on a 13-0 run to take a 45-40 lead with 5:59 left on a pair of free throws by Erik Dornfeld.
Roth led the Vikings in scoring with 15 points on five of 10 from the field, including four of nine from three point range. Sophomore Kevin Schlitter (Maine South HS, Park Ridge, Ill.) and senior Bryant Voiles (Byron HS, Byron, Ill.) each had 10 points and Rorer scored nine.
Boyd led Elmhurst with 15 points.
The Bluejays clobbered Augustana on the boards, winning that battle by a comfortable 48-30 margin. Kunz led the Vikings with eight rebounds while Schlitter had five.
Augustana will try to get back on track this Tuesday, January 17 with a home contest against North Park at 7:30 p.m. in the Carver Center. The Vikings are now 11-4 overall and 1-3 in the CCIW while Elmhurst moves to 8-7 and 2-2.