January 14, 2012
2011-12 Season - Lack of offense hurts against Elmhurst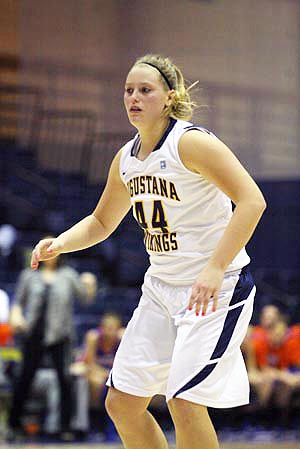 Chaney Tambling led Augustana with seven points and six rebounds in a loss at Elmhurst on Saturday night.
ELMHURST, Ill. - Lack of productivity on offense didn't help Augustana in a 56-35 loss at Elmhurst in College Conference of Illinois & Wisconsin women's basketball action on Saturday, January 14 at Faganel Hall. The Vikings shot just .213 from the field and were unable to put a single player in double figures in the loss.
Elmhurst jumped out to a 30-18 lead at halftime thanks to a 17-4 run that turned a 9-9 game with 11:23 left in the first half to a 26-13 Bluejay advantage with 4:08 left before intermission. The margin would only get into single digits once in the second half.
Augustana connected on 10 of 47 field goals in the game while Elmhurst was shooting .435 on 20 of 46.
Junior Gianna Pecora (Downers Grove South HS, Darien, Ill.), sophomore Chaney Tambling (Dwight HS, Dwight, Ill.) and senior Kristina Howard (Cherokee Trail HS, Aurora, Colo.) tied for the scoring lead for the Vikings with seven points each. Tambling led the team in rebounding with six and she added a pair of steals.
Elmhurst got 22 points from Tess Godhardt, who was eight of nine from the field and six of eight from the free throw line and added 12 rebounds, and 14 points out of Meghan Merklein.
Augustana is now 9-6 overall and 1-3 in the CCIW while Elmhurst moves to 13-2 and 4-0. The Vikings will host North Park on Wednesday, January 18 at 7:30 p.m. in the Carver Center.