January 14, 2012
2011-12 Season - Quiros, Richardson & Schraidt win titles at Central Invite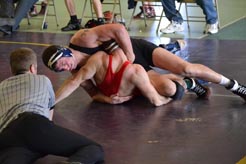 Jordan Richardson was one of three Augustana wrestlers to win individual titles at the Central of Iowa Invitational. Richardson took the 174 pound weight class.
PELLA, Iowa - There were no team scores at the Central of Iowa Invitational on Saturday, January 14 in Pella, Iowa but that didn't stop the Augustana wrestling team from putting on an impressive performance. Head coach Eric Juergens' team brought home three individual champions, two runners-up and a third place finisher after the long day of competition.
The individual champions were senior Alberto Quiros (Morton East HS, Cicero, Ill.) at 149, sophomore Jordan Richardson (Grandville HS, Wyoming, Mich.) at 174 and freshman John Schraidt (Riverside-Brookfield HS, Riverside, Ill.) at 285.
Junior Steve Poffenberger (Allegan HS, Paw Paw, Mich.) at 133 and junior Hunter Feraco (Gull Lake HS, Battle Creek, Mich.) at 197 both finished second and freshman John Seaman (Munster HS, Munster, Ind.) placed third at 285.
Quiros won five matches en route to his title at 149 pounds. He started his day with a pin just :47 into his match with Chris Hallinan of Central of Iowa and in the next round he pinned Johnny Gonzalez of William Penn at 1:47. In the quarterfinals he beat David Kellog of Grand View 4-2 and he beat Isaiah Tatum of Grand View in the semi-finals by a 2-1 margin. In the championship match he beat Adam Kurimski of Grand View 2-1. Quiros is now 26-6 on the season.
Richardson scored three pins in his four matches during his march to the 174 pound title. He started things off with a fall just 1:00 into his match with Palmer Scott of Central of Iowa. He beat Jameel Bryant of North Iowa 7-4 in the quarterfinals and then pinned Cody Swim of Grand View at 4:26 in the semi-finals. In the championship match he decked Nathan Downs of Hannibal-LaGrange at 6:28. Richardson is now 23-5 this year.
Schraidt pinned Tyler Styrk of William Penn at 2:19 in his first match at 285 and then beat Brandon Burrell of Central of Iowa in the semi-finals by a score of 4-2. In the championship match he defeated John Sievert of Morningside 11-6 to move his individual record to 21-5 this season.
Poffenberger lost to Omi Acosta of Grand View by a score of 11-0 in the championship match at 133 pounds. In order to get to that match, however, Poffenberger pinned Jesse Hylton of Augsburg at 2:19 in the opening round and then beat Angelo Crinzi of Grand View 13-7 in the quarterfinals. He defeated Bryan Connolly of Central of Iowa 12-6 in the semi-finals before running into Acosta. Poffenberger is now 19-9 this season.
Feraco defeated Michael Guerrero of North Iowa College 11-5 in the quarterfinals at 197 and then he pinned Theron Stewart of Central of Iowa at 5:05 of the semi-final bout. He lost in the championship to Derek Nightser of Grand View 4-1. Feraco is 18-8 this year.
Seaman won his first match with a pin over Jake Hare of Hannibal-LaGrange at 1:02. He was then pinned himself in thesemi-finals by Sievert, who would lose in the championship to Schraidt. Seaman then had to wrestle his other teammate at 285, sophomore Abe Duran, in the wrestle backs and Seaman Won by fall at 2:03. In the third place match he won by forfeit over Brandon Burrell of Central. Seaman is 13-7 for the season.
Although he did not earn a place, freshman Torrey Welch (Valor Christian HS, Littleton, Colo.) put on quite a show at 165 pounds. After losing his first round match to Colton Moore of Central of Iowa by pin at 3:34, Welch won four straight matches in the wrestle backs before falling to Jared Wildeboer of Morningside in the match that decided the contestants for the third place bout.
Augustana will wrestle the University of Chicago on Thursday, January 19 at 7:00 p.m. in the Carver Center and then will head to Wheaton, Illinois on Saturday, January 21 for the Wheaton Duals.