January 12, 2012
2011-12 Season - Vikings fall at 29th ranked North Central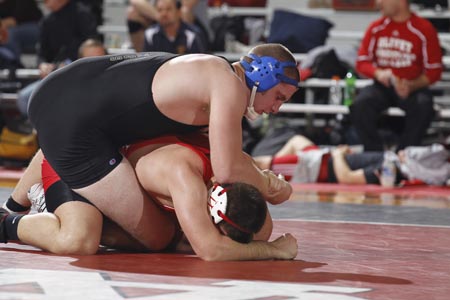 Freshman John Seaman finished off the Vikings dual meet loss at 29th ranked North Central with a pin in the 285 pound weight class.
NAPERVILLE, Ill. - Augustana dropped a 27-18 decision to 29th ranked North Central on Thursday, January 12 in College Conference of Illinois & Wisconsin wrestling action at Merner Fieldhouse in Naperville, Illinois. The Vikings are now 7-4 on the season and all four of the losses have come to nationally ranked opponents.
Junior Steve Poffenberger (Allegan HS, Paw Paw, Mich.) got the first win of the night for the Vikings after they suffered a pin at 125. Poffenberger beat Sean Tomac by a score of 8-3 at 133 pounds to move his record to 16-8.
Senior Alberto Quiros (Morton East HS, Cicero, Ill.) pulled out a 4-2 victory over Eric Oyster at 149 pounds. Quiros now has a team leading 21 victories to go against just six losses on the year.
Sophomore Jordan Richardson (Grandville HS, Wyoming, Mich.) pinned Andrew Hiller in 3:59 at 174 pounds to move to 19-5 while freshman John Seaman (Munster HS, Munster, Ind.) recorded a pin at 2:16 of the 285 pound weight class over Chris James. Richardson is 19-5 while Seaman upped his record to 10-6.
Augustana will be in action next at the Central of Iowa Tournament on Saturday, January 14 in Pella, Iowa.
North Central 27, Augustana 18
Thursday, January 12, 2012
Merner Fieldhouse - Naperville, Illinois
NORTH CENTRAL 27, AUGUSTANA 18
125 - Brayan Gonzalez (NCC) pin Thomas Browne (A), 4:38.
133 - Steven Poffenberger (A) dec. Sean Tomac (NCC), 8-3.
141 - Andrew Zobac (NCC) tech fall Greg Gogonas, 28-12 (A) (4-pt tech fall - no nearfall pts)
149 - Alberto Quiros (A) dec. Eric Oyster (NCC), 4-2.
157 - Joby Bodi (NCC) maj. dec. David Tessiatore (A), 12-3.
165 - Devin Milheim (NCC) pin Matt Burns (A), 0:38.
174 - Jordan Richardson (A) pin Andrew Hiller (NCC), 3:59.
184 - Andrew Bradley (NCC) maj. dec. Seth Whan (A), 15-4.
197 - Dylan Mahler (NCC) dec. Hunter Feraco (A), 6-4.
285 - Jack Seaman (A) pin Chris James (NCC), 2:16.
RECORDS: Augustana 7-4