January 11, 2012
2011 Season - Moesle named to All-Region team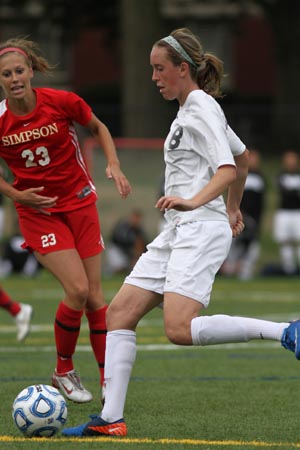 Taylor Moesle has been named to the All-Central Region team in women's soccer for the second year in a row.
ROCK ISLAND, Ill. -Augustana junior midfielder Taylor Moesle (Sandburg HS, Orland Park, Ill.) was named to the National Soccer Coaches Association of America All-Region team for the 2011 season. This is the second time in her career that Moesle has been named to the All-Central Region team. Last year Moesle was named to the first team, and went on to earn All-American honors. This year she was named to the NSCAA All-Region second team. Moesle was also named a first team All-College Conference of Illinois and Wisconsin performer for head coach Scott Mejia this season.
Moesle led the Vikings on the offensive end this season, finishing with a team-high 22 points. She tied for the team lead with seven goals, while also accruing eight assists. Her eight assists tie her for second highest single-season total in school history. After her junior season, Moesle is already tied for third in career assists with 17, fifth in career points with 73 and tied for seventh in career goals with 28. Moesle was also voted the team's Most Valuable Offensive Player by her teammates this season.
Playing its first season at brand new Thorson-Lucken Field, the Augustana women's soccer team finished 2011 with an 6-3-1 record at home and 11-8-1 overall, marking the program's 10th consecutive winning season. The Vikings also had their 10th straight winning season in conference play, finishing 4-3 and tied fourth in the CCIW.
Moesle, a junior majoring in communication studies, is the daughter of Michael and Lynn Moesle of Orland Park, Ill.