January 10, 2012
2011-12 Season - #6 Vikings fall at #25 IWU in CCIW action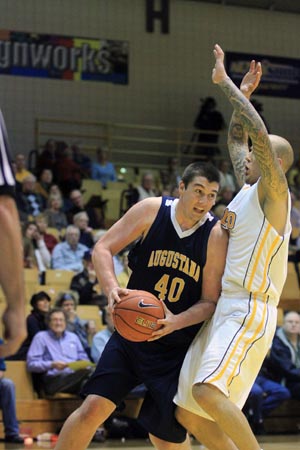 Kevin Schlitter, in just his second varsity start, had 11 points and four rebounds during Augustana's 73-63 loss at 25th ranked Illinois Wesleyan on Tuesday, January 10 in Bloomington.
BLOOMINGTON, Ill. - In an early season marquee matchup in the College Conference of Illinois & Wisconsin, sixth ranked Augustana dropped a 73-63 decision to number 25 Illinois Wesleyan on Tuesday, January 10 at the Shirk Center in Bloomington, Illinois. It was the second consecutive defeat for the Vikings, who fell at home to North Central on Saturday, January 7 by a score of 67-62.
This game was close and was tied on 12 separate occasions, the last being at 50-50 with 11:21 left in the contest. Augustana led by one (32-31) at the break and had a four point lead (41-37) early in the second half. After the game was tied at 50, the Titans' Andrew Ziemnik hit a pair three point field goals to help give the home team a 58-52 lead with 9:17 remaining. Augustana managed to whittle the advantage to a single point (58-57) thanks to a three point field goal from Troy Rorer (Bettendorf HS, Bettendorf, Iowa) and two free throws from George Dexter (Bettendorf HS, Bettendorf, Iowa) at 7:06.
In less than three minutes, however, the margin was back up to nine (66-57) as Jordan Zimmer hit a three point basket, Ziemnik a layup, Kevin Reed a free throw and Zimmer a two point field goal. Zimmer's second basket in the 8-0 run came at 4:35 and the Vikings could only get as close as five points (67-62 at 2:44) following that Titan flurry.
The final six Illinois Wesleyan points came from the free throw lines in the game's final minute as Augustana missed its final four shots and six of its last seven.
Rorer led Augustana in scoring with 13 points while sophomore Kevin Schlitter (Maine South HS, Park Ridge, Ill.) was in double figures with 11. The Vikings shot just .328 (19-58) from the field and were only four of 17 from three point range. They won the rebounding battle by a slim 28-24 margin as Kameron Norton (Downers Grove North HS, Downers Grove, Ill.) led the way with seven while Bryant Voiles (Byron HS, Byron, Ill.), Brandon Kunz (Lake Zurich HS, Lake Zurich, Ill.) and Dexter each had six.
Illinois Wesleyan had four players in double figures with John Koschnitzky leading the way with 14 while Zimmer had 12, Reed 11 and Eliud Gonzalez 10.
Augustana falls to 11-3 overall and 1-2 in the CCIW while Illinois Wesleyan moves to 12-2 and 3-0. The Vikings will be at Elmhurst on Saturday, January 14 at 7:30 p.m. in Faganel Hall on the Elmhurst College campus.