January 7, 2012
2011-12 Season - North Central hands Vikings first CCIW loss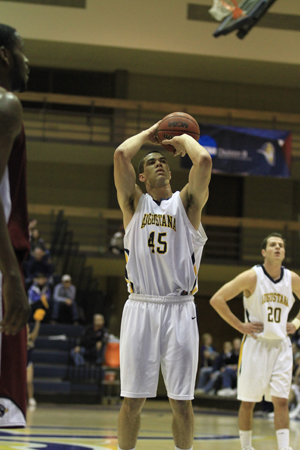 Junior Kameron Norton scored eight points and pulled down eight rebounds Saturday, but the Vikings fell 67-62 to North Central at home.
ROCK ISLAND, Ill.-North Central shot .667 from the field in the second half Saturday on its way to a 67-62 win over third-ranked Augustana at Carver Center. The visitors also held the Vikings to .355 field goal shooting for the game, including an eight-for-34 performance from three-point range. Augustana falls to 11-2 on the year and 1-1 in the CCIW, while North Central improves to 8-5 overall and 2-0 in the league.
Led by a pair of Danielius Jurgutis (Downers Grove South HS, Darien, Ill.) baskets, the hosts jumped out to a 10-2 lead. After North Central's Kevin Gillespie hit a three-pointer, Kevin Schlitter (Maine South HS, Park Ridge, Ill.) scored his second basket of the game to give Augustana a 12-5 lead with 13 and a half to go in the first half.
The Cardinals responded with a 7-1 run to take their first lead of the night at 15-13 before the Vikings answered with a 10-2 spurt, keyed by four Kameron Norton (Downers Grove North HS, Downers Grove, Ill.) free throws, to go back on top 23-17. Then it was North Central's turn, as it scored seven straight, including four from Landon Gamble, to go up 24-23. The teams traded baskets the rest of the opening half and Gillespie put an exclamation point on the first 20 minutes when he hit a 50-foot heave at the buzzer to put the Cardinals up 30-28 at the break.
In the second half, the hosts battled back to take a 44-38 lead on a Mark Roth (Washington HS, Metamora, Ill.) jumper with 11:36 remaining, but it took North Central less than two minutes to erase the deficit and less than a minute more to regain the lead 50-48 on a Derek Raridon basket. A baseline jumper by Bryant Voiles (Byron HS, Byron, Ill.) knotted the score one last time at 50-all, but the Cardinals scored six straight to take the lead for good and the Vikings never got closer than four the rest of the way.
North Central shot .524 from the field on 22 of 42, including six of 14 from three-point range. The Cardinals also got to the free throw line 26 times, converting 17. Augustana hit 22 of 62 field goal attempts and went 10 of 15 from the free throw line. Troy Rorer (Bettendorf HS, Bettendorf, Iowa) had a Viking-high 10 points to go along with seven rebounds and four assists. Norton had eight points and eight rebounds. Gillespie led North Central with 20 points.
Augustana is back on the road Tuesday, January 10, traveling to Bloomington, Illinois to face Illinois Wesleyan, who is tied with North Central atop the CCIW standings at 2-0. Tipoff is scheduled for 7:30 p.m.