January 7, 2012
2011-12 Season - Etheridge three at buzzer beats Cardinals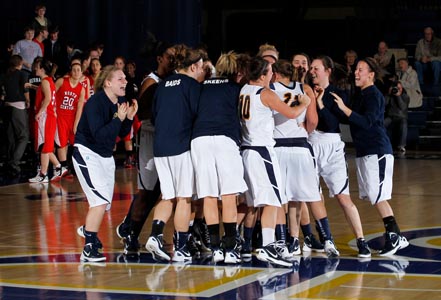 The Vikings mob Molly Etheridge after she hit a three point shot at the buzzer to defeat North Central 66-65 on Saturday night in the Carver Center.
Sophomore Molly Etheridge (Normal Community HS, Bloomington, Ill.) tossed in a three point field goal at the buzzer to give Augustana a pulsating 66-65 victory over North Central in College Conference of Illinois & Wisconsin action on Saturday, January 7 in the Carver Center. The Vikings erased a five point deficit in the game's final 30 seconds with Etheridge's game winner settling in the net as the final horn went off.
North Central led 63-58 after the Cardinals' Jenny Swanson hit a pair of free throws in with just :30 showing on the clock. The Vikings took just seven seconds to whittle the margin to two (63-61) when junior Gianna Pecora (Downers Grove South HS, Darien, Ill.) drilled a three point basket with :23 left.
Callie Rezin was fouled immediately by Pecora and she made the first but missed the second and senior Natalie Runge (St. Dominic's HS, O'Fallon, Mo.) rebounded the ball with Augustana trailing 64-61. After working the ball around, Etheridge hit a short jump shot to make with 64-63 with :10 left.
The Vikings chose to foul Paula Elum and she made the first but missed the second and Chaney Tambling (Dwight HS, Dwight, Ill.) hauled in the rebound and quickly found point guard Whitney Miller (Clinton HS, Clinton, Iowa). Miller rushed up the court and passed it to Etheridge who drilled the game-winner.
North Central used a 7-0 run over the final 3:24 in the first half to take a 32-25 advantage into the locker-room.
Augustana came out after intermission and went on a 20-8 run over the first eight minutes to take a 45-40 lead on a basket by Runge.
The Vikings still led by three points (56-53) as late as 4:14 after a basket by Kris Howard (Cherokee Trail HS, Aurora, Colo.). The Cardinals then ripped off 10 of the game's next 12 points to lead 63-58 with just :30 left.
Runge led Augustana in scoring with 15 points while Etheridge dropped in 14 and Pecora added 13. Runge and Etheridge tied for the team lead in rebounding with eight apiece and Etheridge added three assists and a steal. Miller had seven assists and two steals to go with five rebounds while logging a game high 35 minutes. Pecora chipped in with four assists, three rebounds and a steal and was a perfect five of five from the free throw line.
The Vikings won the rebounding battle 40-36.
North Central had four players in double figures with Emily Murphy leading the way with 12. Swanson had 11 and Rezin and Elum each had 10.
Augustana moved to 9-4 overall and 1-1 in the CCIW while North Central fell to 6-7 and 0-2.