January 5, 2012
2011-12 Season - Vikings move to 4-2 with win over Loras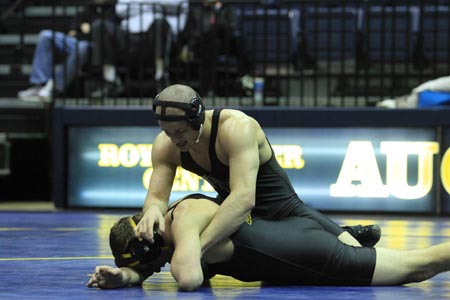 Freshman David Tessiatore's 7-2 win over Chris Gansen of Loras at 157 pounds put Augustana in front to stay in the Vikings' 25-14 victory on Thursday, January 5 in the Carver Center.
ROCK ISLAND, Ill. - Five straight victories in the middle of the match propelled Augustana to a 25-14 non-conference victory over Loras on Thursday, January 5 in the Carver Center. In all, the Vikings won seven of the final eight weight classes to clinch the win and move to 4-2 on the season.
After dropping bouts at 125 and 133 to fall behind 8-0, sophomore Greg Gogonas (Bowie HS, Austin, Texas) got Augustana rolling with a 10-5 win over Sean Raddatz at 141 pounds. Senior Alberto Quiros (Morton East HS, Cicero, Ill.) followed with a 13-5 win over Joe Wood at 149 pounds. Quiros moved his season record to 17-5 and pulled the Vikings to 8-7 on the scoreboard.
Freshman David Tessiatore (Downers Grove North HS, Downers Grove, Ill.) picked up a 7-2 win over Chris Gansen at 157 to put Augustana in front 10-8. Junior Matt Burns (Naperville Central HS, Naperville, Ill.) bounced Mitch Gansen 10-3 at 165 to make it 13-8 and move his record to 15-7.
Sophomore Jordan Richardson (Grandville HS, Wyoming, Mich.) made a second period escape hold up for a 1-0 win over Joe Butler at 174. Richardson is now 16-3 on the season.
After Loras picked up a pin at 184 pounds to narrow the lead to 16-14, junior Hunter Feraco (Gull Lake HS, Battle Creek, Mich.) defeated Ryan Ward 4-3 at 197 to put Augustana up 19-14. Freshman John Schraidt (Riverside-Brookfield HS, Riverside, Ill.) pinned Kyle Henry at 2:59 in the 285 pound weight class to make the final score 25-14.
Augustana will head to Galesburg, Illinois on Saturday, January 7 for the Knox Dual Tournament.
AUGUSTANA 25, LORAS 14
January 12, 2012
Carver Center ** Rock Island, Illinois
125 - Pat Pfantz (L) beat Thomas Browne (A) 17-0
133 - Matt Holmes (L) beat Steve Poffenberger (A) 9-5
141 - Greg Gogonas (A) beat Sean Raddatz (L) 10-5
149 - Alberto Quiros (A) beat Joe Wood (L) 13-5
157 - David Tessiatore (A) beat Chris Gansen (L) 7-2
165 - Matt Burns (A) beat Mitch Gansen (L) 10-3
174 - Jordan Richardson (A) beat Joe Butler (L) 1-0
184 - Josh Kirland (L) pinned Seth Whan (A) @ 4;13
197 - Hunter Feraco (A) beat Ryan Ward (L) 4-3
285 - John Schraidt (A) pinned Kyle Henry (L) @ 2:59
RECORDS: Augustana 4-2 & Loras 0-12