January 4, 2012
2011-12 Season - Defense keys road win at Millikin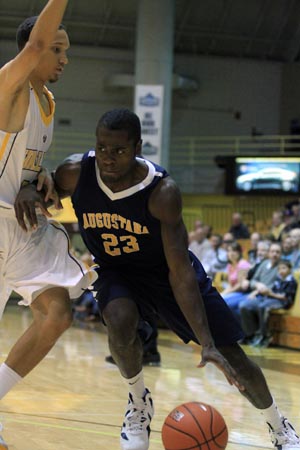 Senior Troy Rorer led the way for third ranked Augustana in a 64-39 victory at Millikin in the College Conference of Illinois & Wisconsin opener. Rorer scored 14 points, pulled down four rebounds and had three assists as the Vikings moved to 11-1 on the season.
DECATUR, Ill. - A stifling defensive effort and a strong all-around performance from senior Troy Rorer (Bettendorf HS, Bettendorf, Iowa) gave Augustana head coach Grey Giovanine just the start he was looking for in the College Conference of Illinois & Wisconsin opener. The Vikings defeated Millikin 64-39 on Wednesday, January 4 at the Griswold Center in Decatur, Illinois.
The Vikings, ranked third in NCAA Division III in the latest D3hoops.com poll, didn't allow the Big Blue offense much operating room in the conference opener for both teams. Augustana led 29-17 after a sluggish first half and were never really threatened en route to the 25 point victory.
Augustana's defense limited Millikin to just .333 (15 of 45) shooting from the floor and only put the Big Blue on the free throw line seven times in the game. A 42-29 advantage in the rebounding department certainly did not hurt either.
Rorer was the only Viking in double figures as he led all scorers with 14 points. He was four of 10 from the field but made two of his three attempts from three point range and was perfect on all four free throws. He grabbed four rebounds and dished off three assists.
Senior Bryant Voiles (Byron HS, Byron, Ill.) was held to just eight points on the night as he took just seven shots. However, he was perfect (4 of 4) from the free throw line and he led his team in rebounding with nine, including four on the offensive end.
Junior George Dexter (Bettendorf HS, Bettendorf, Iowa) had nine points and seven boards while senior Chris Anderson (West Carroll HS, Mt. Carroll, Ill.) and junior Kameron Norton (Downers Grove North HS, Downers Grove, Ill.) each had eight points. Junior Brandon Kunz (Lake Zurich HS, Lake Zurich, Ill.) chipped in with seven points.
Besides holding Millikin under 40 points, the Vikings also dominated in the rebounding department, compiling a 42-29 advantage. They hauled in 19 offensive rebounds, which helped offset their own shooting woes. Augustana shot just .360 (19 of 53) from the floor. Another area that was crucial in this game was at the free throw line where the visitors converted on 20 of 29 while allowing Millikin just seven attempts.
Millikin was led in scoring by Brock VanNordeck with 11 points.
Augustana is now 11-1 on the season and 1-0 in the CCIW while Millikin falls to 1-11 and 0-1. The Vikings will host North Central on Saturday, January 7 in the Carver Center with tip-off set for 7:30 p.m.