January 4, 2012
2011-12 Season - Poor shooting dooms CCIW opener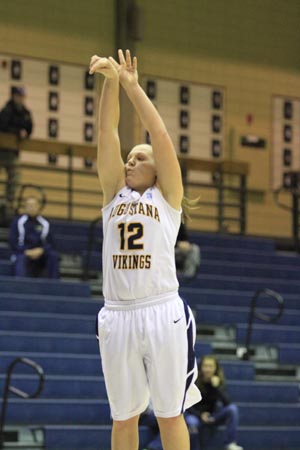 Sophomore Molly Etheridge led Augustana in scoring with 14 points during a 55-49 loss at Millikin in the College Conference of Illinois & Wisconsin opener on Wednesday, January 4.
DECATUR, Ill. - Despite shooting less than 30 percent from the field, Augustana battled Millikin to the wire before falling 55-49 on Wednesday, January 4 in the Griswold Center in Decatur, Illinois. It was the College Conference of Illinois & Wisconsin opener for both teams. The Vikings of head coach Bobbi Endress trailed 28-18 at halftime, hampered by a .261 (6 of 23) field goal percentage.
With 11:02 left in the game the Millikin advantage had climbed to 11 points (40-29) when Augustana came alive.
Senior point guard Whitney Miller (Clinton HS, Clinton, Iowa) kick started an 11-0 run with a pair of free throws at 10:37 to cut the lead to 40-31. Sophomore Molly Etheridge (Normal Community HS, Bloomington, Ill.) nailed two charity tosses at the 10:00 mark to make it 40-33. A basket by junior Gianna Pecora (Downers Grove South HS, Darien, Ill.) trimmed it to 40-35 at 9:13 and a conventional three point play by senior Natalie Runge (St. Dominic's HS, O'Fallon, Mo.) at 8:14 shaved margin to a basket (40-38). Miller scored at 7:52 to tie the game at 40-40.
Millikin scored nine of the game's next 12 points, however, to take a 49-43 lead with 4:21 left after a three point field goal from Julia Robert. The Vikings were able to narrow the gap to two points (51-49) after a three pointer from Etheridge.
Those would be the last points of the game for Augustana as a turnover and three missed three point field goal attempts proved costly down the stretch.
Etheridge led the Vikings in scoring with 14 points and she grabbed four rebounds and dished off a pair of assists. Runge was also in double figures with 12 points and six rebounds while adding a pair of steals. Miller led the team in rebounding with seven and she had two assists and two steals.
Augustana shot just .286 (16-56) from the field, including just two of 12 from three point range.
Millikin was led in scoring by Cecily Aldridge with 17 points.
Millikin moves to 9-3 overall and 1-0 in the CCIW while Augustana drops to 8-4 and 0-1. The Vikings host North Central on Saturday, January 7 at 5:30 p.m. in the Carver Center.