December 30, 2011
2011-12 Season - Vikings set three-point record in win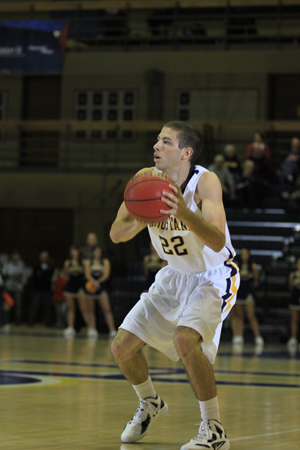 Freshman Mark Roth hit five of Augustana's school-record 15 three-pointers Friday night, scoring a career-high 15 points in a 96-53 win over MacMurray.
ROCK ISLAND, Ill. - Augustana set a school record with 15 three-point field goals Friday night as it wrapped up the non-conference portion of its schedule with a 96-53 win over MacMurray at Carver Center. Freshman Mark Roth (Washington HS, Metamora, Ill.) led the way, hitting five of six three attempts for a game-high 15 points. The third-ranked Vikings improve to 10-1 on the season while the Highlanders fall to 5-5.
Senior Brian DeSimone (Buffalo Grove HS, Wheeling, Ill.) scored all 11 of his points in the first 10 minutes of the game as the Vikings shook off some rustiness after an 11-day holiday layoff. His third three-pointer of the opening half, along with two from Bryant Voiles (Byron HS, Byron, Ill.), highlighted a 15-0 Augustana run which saw the hosts extend a 13-10 lead to 28-10 over a span of six minutes.
A Danielius Jurgutis (Downers Grove South HS, Darien, Ill.) jumper just before the four-minute mark pushed the advantage to 20 points, 35-15, before MacMurray answered with back-to-back three-pointers of its own. Baskets by Troy Rorer (Bettendorf HS, Bettendorf, Iowa) and Brandon Kunz (Lake Zurich HS, Lake Zurich, Ill.) gave the Vikings a 39-22 edge at intermission.
Jurgutis and Kevin Schlitter (Maine South HS, Park Ridge, Ill.) each had a pair of buckets as Augustana opened the second half with a 13-2 run to take a 52-24 lead. Roth's three at the 12:35 mark put the hosts ahead 58-29 and he hit three more in the next four minutes before getting the rest of the night off.
Senior Griffin Dwyer (Hersey HS, Arlington Heights, Ill.) picked up where Roth left off, scoring all of his career-high 10 points in a span of five minutes, including a three-pointer that gave Augustana its biggest lead of the night at 87-43. A trey from Sam Calcagno (Mayo HS, Rochester, Minn.) with 25 seconds left was the Vikings' 15th of the night, surpassing the previous single-game school record of 14 set at Wisconsin-Platteville in 1993 and equaled in a 2005 contest at Wisconsin-Stout. Roth, Jurgutis (11 points), Dwyer, Schlitter (seven) and Calcagno (five) all set career scoring highs as the Augustana bench accounted for 64 of the team's 96 points. All 15 Vikings who dressed saw action in the game.
In addition to the record-setting 15-of-25 performance from behind the arc, Augustana compiled a huge 49-24 advantage on the glass, led by Voiles' game-high 10 rebounds. George Dexter (Bettendorf HS, Bettendorf, Iowa) snared nine. The Vikings also recorded 24 assists with DeSimone and Jurgutis dishing out four each and Rorer and Schlitter three apiece.
Augustana opens defense of its CCIW championship on Wednesday, January 4, taking on Millikin in Decatur, Illinois. Tipoff is scheduled for 7:30 p.m.