December 19, 2011
2011-12 Season - Vikings escape at Knox 55-53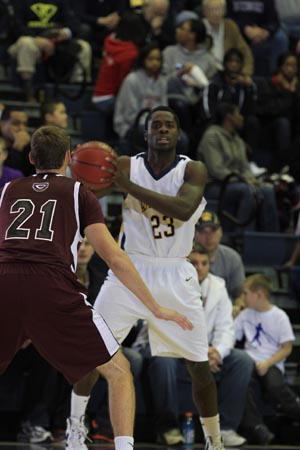 Troy Rorer dropped in a career high 21 points as Augustana beat Knox 55-53 on Monday, December 19 to move to 9-1 on the season.
GALESBURG, Ill. -Senior captain Troy Rorer (Bettendorf HS, Bettendorf, Iowa) scored a career high 21 points to help lead third ranked Augustana to a hard fought 55-53 non-conference victory over Knox on Monday, December 19 in Galesburg, Illinois. Rorer picked up the slack with fellow captain Bryant Voiles (Byron HS, Byron, Ill.) sitting out the game to nurse a sore foot and the Vikings needed every one of his points.
He was six of 12 from the field and eight of 11 from the free throw line. Although he connected on just one of six three point field goal attempts, the one he made came with 8:23 left in the contest and it was huge. Knox had whittled what was once a 12 point Viking lead (43-31 at 13:30) to three points (43-40) thanks to a 9-0 run. His shot from the top of the key off an assist by fellow senior Griffin Dwyer (Hersey HS, Arlington Heights, Ill.) slowed the Prairie Fire's momentum.
A basket by junior Brandon Kunz (Lake Zurich HS, Lake Zurich, Ill) made it 48-40 at 6:44 but Knox refused to go away. Tanner Carlson, who led the home team with 17 points, hit three free throws over the next 1:12 to trim the lead to five (48-43) with 5:21 to play.
Augustana's senior point guard Brian DeSimone (Buffalo Grove HS, Arlington Heights, Ill.) nailed a three off an assist by Rorer at the 4:34 mark to bump the advantage back to eight (51-43). After Joe Kozak of Knox (3:58) and Rorer (3:42) traded baskets, the lead was still eight (53-45).
Carlson's bucket at 3:15 made it 53-47 before Rorer answered once again, this time at 1:58 to make it 55-47. That would be the last points for the Vikings, however, as Kozak scored on a conventional three point play at 1:37 to make it 55-50 and Carlson hit a jumper with :30 remaining to make it 55-52.
Augustana missed two free throws in the final 29 seconds and with three seconds remaining David Jones of Knox was fouled with the Vikings ahead by three points. Jones made the first free throw but missed the second one intentionally, hoping for a rebound. Kozak pulled down his teammate's miss but his shot was blocked by Kunz, who also grabbed the rebound and passed the ball to DeSimone as time expired.
Augustana led 33-23 at halftime after leading by as many as 15 points (29-14 at 6:35 and 31-16 at 5:59) twice in the first half. Knox responded in the second half behind the scoring of Tanner Carlson, who scored 11 of his team high 17 points in the final 20 minutes.
Turnovers hurt Augustana as the Vikings committed 17. Another area where Knox was able to neutralize the Blue & Gold was rebounding. Even though Augustana held a 32-26 advantage, the Vikings only snared six on the offensive end. Combine the turnovers and lack of offensive rebounding with a .422 (19 of 45) shooting performance from the field and points were at a premium for veteran head coach Grey Giovanine's club.
However, the Augustana defense was solid once again, limiting Knox to just .392 shooting from the field on 20 of 51, including a one for eight performance from three point range.
Rorer was the lone Viking in double figures in scoring as senior Chris Anderson (West Carroll HS, Mount Carroll, Ill.) and freshman Danielius Jurgutis (Downers Grove South HS, Darien, Ill.) were next in line with seven points apiece.
Besides Carlson's 17 points, Kozak had 13 and Lukas Shaw added 12 and also led all rebounders with eight.
The Vikings, ranked third in the latest NCAA Division III national poll, moved to 9-1 on the season while Knox fell to 2-6. Augustana will be off until hosting Macmurray at home on Friday, December 30.