December 17, 2011
2011-12 Season - Vikings move to 8-3 heading into CCIW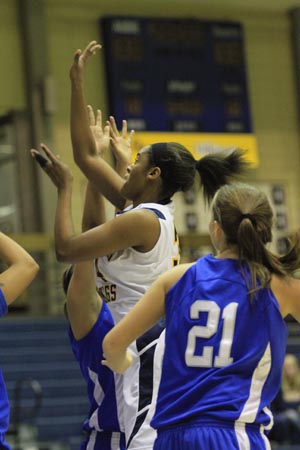 Senior Kris Howard scored 11 points and pulled down six rebounds with an assist and a blocked shot as Augustana defeated Dubuque 63-55 to move to 8-3 on the season.
DUBUQUE, Iowa - A sterling defensive effort helped offset a huge rebounding deficit as Augustana closed out the non-conference portion of its women's basketball schedule with a 63-55 victory at Dubuque on Saturday, December 17. The Vikings forced 23 Spartan turnovers and that helped neutralize a 44-30 Dubuque advantage on the backboards.
Senior Natalie Runge (St. Dominic HS, O'Fallon, Mo.) led the way for head coach Bobbi Endress' crew with 17 points and three rebounds. Runge was six for 11 from the field and a perfect five of five from the free throw line.
Augustana was leading 15-13 with 7:45 left in the first half when the Vikings went on a 14-5 run then ended with a basket by Runge at the 3:05 mark. At that point Augustana led 29-18 but Dubuque scored eight of the next 10 points to trim the advantage to 31-26 at halftime.
The Vikings never relinquished the lead in the second half and led by double digits on four separate occasions before settling in for an eight point victory.
Sophomore Molly Etheridge (Normal Community HS, Bloomington, Ill.) dropped in 13 points and had a game-high six assists while senior Kris Howard (Cherokee Trail HS, Aurora, Colo.) scored 11 points and led the Vikings in rebounding with six.
Mollie Whiting topped Dubuque in scoring with 23 points and Heather Taylor had 11 points and 10 rebounds. The Spartans shot just .354 from the field, however, as the Augustana defense was solid all afternoon.
With the victory the Vikings move to 8-3 overall while Dubuque falls to 4-5. Augustana will be in action again on January 4 against Millikin in the College Conference of Illinois & Wisconsin opener for both teams.