December 16, 2011
2011-12 Season - 27th ranked Vikings fall to fifth ranked Cornell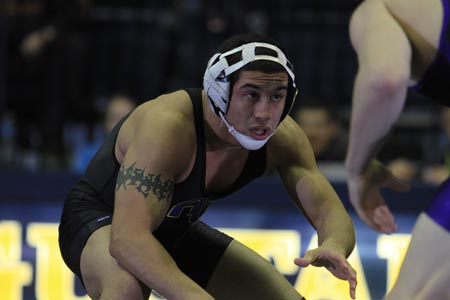 Senior Alberto Quiros picked up a 6-1 win over Jacob Schwebke of Cornell at 149 pounds in the 27th ranked Vikings 34-6 loss to fifth ranked Cornell on Friday, December 16 in the Carver Center.
The fifth ranked Cornell Rams won eight of 10 weight classes, including three by pins, en route to a 34-6 victory over 27th ranked Augustana on Friday, 16 in the Carver Center. Augustana got victories from senior Alberto Quiros (Morton East HS, Cicero, Ill.) and sophomore Jordan Richardson (Grandville HS, Wyoming, Mich.) to account for the only Viking points.
After dropping the first three matches to fall behind 13-0, Quiros got the Vikings on the board in the 149 pound weight class. He defeated Jacob Schwebke 6-1 to move his record to 16-5 on the season.
Cornell won the next three weight classes to pull ahead 25-3 before Richardson defeated Andrew Roberts 3-1 at 184 pounds. Richardson is now 15-3 this year.
Augustana will now be off until facing Loras at home on January 5, 2012.
AUGUSTANA WRESTLING
Friday, December 16, 2011
Carver Center *** Augustana College *** Rock Island, Illinois
#5 Cornell 34, #27 Augustana 6
125 – Timothy Hood (CO) pinned Thomas Browne (A) @ 2:08
133 – Tigue Snider (CO) beat Steve Poffenberger (A) 9-2
141 – Michael Buhr (CO) beat Greg Gogonas (A) 10-1
149 – Alberto Quiros (A) beat Jacob Schwebke (CO) 6-1
157 – Nicholas Loughlin (CO) pinned David Tessiatore (A) @ 5:59
165 – Joe Hambleton (CO) beat Matt Burns (A) 7-4
174 – Brent Hamm (CO) beat Cody Heche (A) 9-3
184 – Jordan Richardson (A) beat Andrew Roberts (CO) 3-1
197 – Alex Coolidge (CO) beat Hunter Feraco (A) 7-0
285 – Wyatt Baumann (CO) pinned John Schraidt (A) @ 4:38
RECORDS: Augustana 3-2 & Cornell 6-2