December 2011
Sweden gets Mahaffey—and the better of us
By Jason Peters
There are plenty of reasons to pause today, December 16: Vasco da Gama rounded the Cape of Good Hope (1497); Oliver Cromwell became Lord Protectorate of the Commonwealth of England (1653); a band of unhappy New Englanders made tea in Boston Harbor (1773); the Battle of the Bulge commenced (1944); there was a famous air disaster in New York (1960); and the city of Cleveland, always in a bad way for one reason or another, defaulted on $14 million in loans (1978).
We said good-bye on this day to one of the brothers Grimm (1859) and suffered an even greater loss when the patron of the American coronary, Colonel Sanders, died (1980).
But there had been reasons to rejoice—especially for Swedes. Liv Ullman, the favored Norwegian actress of a certain brooding Scandinavian film producer, was born this day in 1938. And let us not forget a very great Swede, Benny Andersson of ABBA, born Dec. 16, 1946. (Beethoven, too, in 1770, though he didn't have a drop of Swedish blood in him.)
But I shall remember December 16 as the day Sweden got the better of us, for on that day my friend and colleague Charlie Mahaffey ended his 34-year teaching career in the Department of Geography and prepared to buck the whole trend of Swedish immigration by leaving Augustana for Gothenburg.
Don't get the wrong idea. The best of men are not global citizens. They are, like Charlie, localists. They know where they are and they care deeply about their place. Charlie's enduring concern for the sustainability of the built environment and for the ways we inhabit it is, to my mind, his great contribution to Augustana. Charlie never aspired to be native to his globe. He aspired to be native to his place.
He and I worked closely together for 15 years to help students understand their contingency as creatures of nature, their responsibilities as citizens of a given place, and their membership in local life and culture. During that time I learned far more from him than he from me. To say that I shall miss him is almost to abuse an English sentence, but I shall miss him nonetheless.
So add this to your list of reasons to pause on December 16: in 2011, a college, a city and a region said farewell to Charlie Mahaffey, professor of geography, and began the difficult task of faring well without him.
On closer look
Veronica Smith '12
After the November 30 lecture "Rembrandt as Printmaker" by Tom Rassieur, John E. Andrus III Curator of Prints and Drawings at the Minneapolis Institute of Arts, Veronica Smith (art, art history and environmental studies major) asked him why he thought Rembrandt was still relevant in the 21st century.
After a contemplative moment, Rassieur began, "Well, mastery of his craft, for one. This guy was rock solid in his technique. It is incredible to me that I can take one of his prints, blow it up to the size of a barn door, and still find such exquisite detail." I nodded in agreement. "Though people may be losing the ability to contemplate and meditate," Rassieur continued.
Face to face with an actual Rembrandt, I was beginning to feel the truthfulness of that statement. I had only stood before the small etching for as long as it takes to polish off a plate of hors d'oeuvres, and despite genuine interest in what I was viewing, I was already antsy. I forced myself to keep looking. After all, Rassieur did not become one of the leading experts on Rembrandt etchings by glancing at a single piece for three minutes. In fact, he spent years just looking at the works of Rembrandt and visually absorbing everything he possibly could.
I dutifully admired the technical proficiency of the work before me.... Despite the artist's almost doleful expression, the frilly-ness of the couples' 16th-century clothing lends a sense of levity to the etching. The opulently outdated clothing and the studio setting of the image (denoted by the art materials Rembrandt holds) defy the composition of traditional Dutch marriage portraiture, which tended to place couples in domestic settings and adhered to contemporary fashion. In this departure, Rembrandt was proclaiming the depth of his love. No ordinary marriage portrait would do for his Saskia. Instead, Rembrandt portrayed his wife as muse and as steadfast support, literally standing (or sitting, in this case) behind his art. She is surrounded by ethereal light, almost foreshadowing her premature death six years after this etching was produced. The artist's face seems careworn but satisfied. His deeply shadowed eyes impart a sense of troubles endured, but a faint smile tugs at the ends of his mustache. I wondered at how such miniscule lines define the slightest beginnings of a smile.
Near the end of our conversation, Rassieur concluded, "There's a humanity about Rembrandt that is timeless." Rembrandt went bankrupt, nearly lost his house, lost his wife—his experiences weren't that different from what many people today experience—and he was able to capture the humanity of that experience in his work.
Field Notes
Field Notes illustrates different kinds of experiential learning that take us places off campus. In this issue, German major Kristine Guinther '14 sends an excerpt from the journal she kept during her fall term in Wittenberg, Germany. She says, "Though my focus in this journal is more on landscape, my bike rides were more about the churches." See the photo at top, where Kristine stands between Drs. Kim Vivian and Allen Bertsche while taking a break to see a church during a bike ride through Griebo. From "Biking with the Professors":
We raced downhill. I didn't know that bike could go so fast! Out of the woods, through the field, past the hunting stands, turn left, back to Griebo, crossing the road carefully, through the dorf. Along the way to Appollensdorf, past the river, past the soccer fields, under the trees and past the benches into the town, through the town—I can still hear them laughing at the joke, still hear the words.
Down the hill, through the gates, past the sheep, through the gates again. Through the trees, through the meadow, past the men sitting along the path of rose bushes, through the trees once more. Along the road, among the houses, past the chemical factory—so out of place it does seem. Among the trees, among the factories, I can still smell the vanilla from the baking cookies. Past Aldi, along the path, over the train tracks, past the gardens, through the edge of the inner-town, and finally back to Wittenberg—back to the Hof. These images will never leave me. ("Hof" means courtyard.)
New Face on Campus


Lucas Street
Assistant Director of the Reading/Writing Center
His path began just a few miles from Augustana. A native Rock Islander, Lucas Street grew up on 15th Street. He attended Black Hawk College, studied through Vineyard Leadership Institute and worked as an office administrator. Lucas married, started a family and then made the decision to go to Knox College. As a non-traditional student, he studied creative writing, learned he loved to tutor and teach, and earned a B.A.
In 2008, with wife Cynthia and young sons Lewis and Cedric (now 7 and 4, respectively), Lucas headed westward to Laramie, Wyoming. He describes the two years the family spent there as "incredible." The Laramie adventure netted Lucas an M.F.A. in creative writing from the University of Wyoming and many great memories, including hiking, sledding, snowshoeing, great summers and eight-month long winters.
In the summer of 2010, the Streets moved back to the Quad Cities. Settling in Moline, Lucas began to teach for Scott Community College and Clinton Community College. He added Augustana to his credentials at the start of the fall 2011 term, teaching two LSFY 101 classes. One month ago, Lucas began his new job—assistant director of the Reading/Writing Center. In this most recent leg of his journey, Lucas has learned that the center is very well established and "the tutors are amazing."
"I'm impressed by the caliber of each of our students [who tutor]," he said. "They are generous people who enjoy the opportunity to help others."
His journey of many miles and memories has brought Lucas to another pleasant juncture. As he says it, "I enjoy going to work every day."
In the Works
Director of Human Resources Laura Ford authors a perennial series of information and wisdom pertaining to being an employee of Augustana College.
Life is complicated—help is available! This fall, the Augustana Benefits Committee recommended to the cabinet the addition of an Employee Assistance Program (EAP) to add to our benefits offering. After reviewing several options, the college selected Genesis EAP. This completely confidential and free counseling service is available to all Augustana employees (full- and part-time) and their immediate family members. Trained counselors are available 24/7 and can provide service over the phone or in person at one of six area locations.
No sign-up is required and this benefit is available now. You can learn more or schedule an appointment by calling (800) 475-1641. EAP counselors can help with a variety of issues including marital issues, emotional stress, alcohol/drug abuse, family illness, family/relationship issues, financial issues, job stress, caring for the elderly and legal issues.
If you are interested in learning more about this benefit, please attend one of the open meetings scheduled for January 17 at 3:30 p.m. and January 19 at 9 a.m. in the College Center Board Room. Or, for immediate information, watch this short informational video describing the services. This same video link is available at augustana.edu/humanresources, or feel free to contact any member of the HR team for additional information.
We hope that, as the need arises, this benefit will help Augustana employees and their family members deal with many of the complicated situations that life may bring.
Augustana Family News
Adding to the recent announcement from art history about the arrival of baby Rory Batz (to Margaret Morse and her husband Mike Batz), here are two announcements that didn't make it into our November issue:
Proud parents Allison (CSD) and Dan Haskill and their sons Logan and Liam are pleased to announce that their family has been selected as an adoptive placement for twin 11-year-old girls, Amber and Amy. Amber joined the family on May 26 and Amy joined her sister and the rest of the family on November 14.
Nathan (physics) and Holly Frank welcomed Hannah Ruth on May 21. She has two older brothers (Henry and Johnathan) who adore her and will certainly protect her in the years to come.
Seen & Heard
"There's a humanity about Rembrandt that is timeless."
—Visiting lecturer Tom Rassieur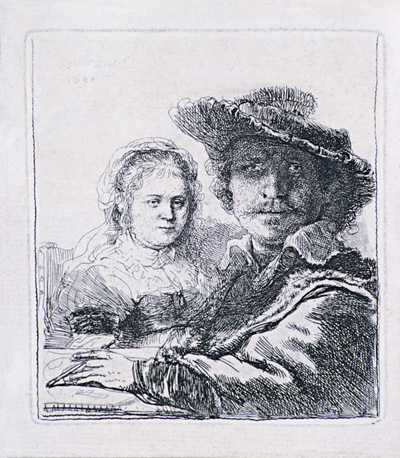 Rembrandt and His Wife Saskia, 1636
Rembrandt van Rijn (Dutch 1606-1669)
Etching, 10.6 X 9.5 cm, 4-3/16 x 3-7/8" image
Gift of the Augustana College Class of 1951, Augustana College Art Collection, 2001.19
Rassieur's lecture was supported by the Vaky Art History Lecture Series.
Acknowledge is published by the Office of Communication and Marketing at Augustana College. Contact Beth Roberts, editor. Photos in this issue were contributed by Marla Alvarado-Neuerburg, Daisy Hoang '14 and Kyle Soyer '14 of the Augustana Photo Bureau, as well as Kristine Guinther '14.