December 14, 2011
2011-12 Season - Augustana hammers Chicago 93-52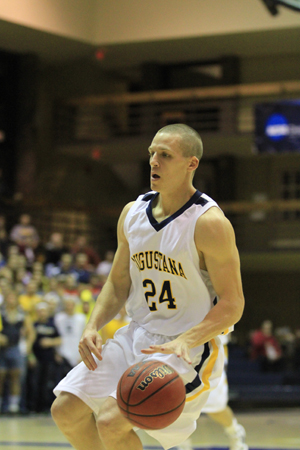 Senior Griffin Dwyer scored a career-high eight points Wednesday night in Augustana's 93-52 win over Chicago at Carver Center.
ROCK ISLAND, Ill.-Augustana's three senior co-captains again led the way Wednesday night as the third-ranked Vikings defeated Chicago 93-52 at Carver Center. All 15 Vikings who were dressed saw action, with 13 of them getting in the scoring column. Augustana improves to 8-1 on the year, while the Maroons fall to 5-4.
The hosts led wire-to-wire, jumping out to an 8-0 lead behind a traditional three-point play and a three-point field goal from Bryant Voiles (Byron HS, Byron, Ill.). A Danielius Jurgutis (Downers Grove South HS, Darien, Ill.) jumper with 16:39 left in the first half put the Vikings up 12-2 before Chicago put together a 9-4 run to narrow the gap to 16-11. However, Augustana responded with nine straight points from four different players and the lead was never under double digits again.
The advantage reached 21 on a Troy Rorer (Bettendorf HS, Bettendorf, Iowa) three-point play with 1:23 left in the half. A bucket by the Maroons' Matt Johnson cut the deficit to 19, but Chris Anderson (West Carroll HS, Mt. Carroll, Ill.) scored on a drive in the lane to push the lead back to 43-22 and then kept it there with a blocked shot just before halftime.
In the first half, Augustana shot .571 from the field, including three-for-three (all by Voiles) from three-point range. The Vikings were also a perfect eight of eight from the free throw line. Chicago shot just .375 from the field and committed 14 turnovers in the opening stanza.
There was no let up in the second half as Voiles scored the Vikings' first six points of the period to push the lead to 49-22 with 17:33 left. Freshman Mark Roth (Washington HS, Metamora, Ill.) buried a three-pointer with 12:48 left to make it 61-31 and the lead was never under 26 the rest of the way. A pair of Griffin Dwyer (Hersey HS, Arlington Heights, Ill.) three-pointers and one from Sam Calcagno (Mayo HS, Rochester, Minn.) in the final two minutes capped an 11-0 Augustana run to end the game.
Voiles led the Vikings with 21 points in just 20 minutes of action. He hit six of seven field goal attempts, including all four of his three-point tries, and five of six from the free throw line. Rorer added 11 points and four steals. Brian DeSimone (Buffalo Grove HS, Wheeling, Ill.) finished with 10 points, three assists and two steals in just 17 minutes. Roth scored a career-high 10 in only 11 minutes and Dwyer a career-high eight in nine minutes of play. Luke Scarlata (J. Sterling Morton HS, Berwyn, Ill.) tallied eight as well. Jurgutis finished with a game-high four assists and George Dexter (Bettendorf HS, Bettendorf, Iowa) had a game-high six rebounds.
Augustana shot .593 from the field on 32 of 54, including nine of 12 trey attempts. The Vikings were also 20 of 27 (.741) from the free throw line. They held Chicago to just .370 shooting from the floor and forced 20 Maroon turnovers. Augustana also had a 37-26 advantage on the boards.
Next up for the Vikings is a trip to Galesburg, Illinois on Monday, December 19 where they'll face the Knox Prairie Fire in a 7:30 p.m. contest.