December 14, 2011
2011 Season - Tisza earns MVP honor in cross country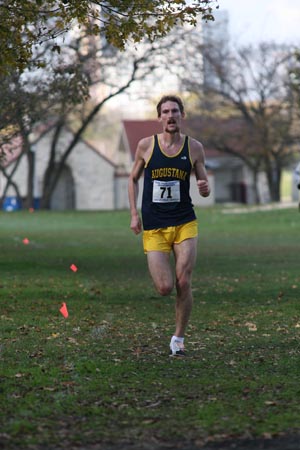 Senior Mike Tisza was selected as the Most Valuable Performer for the 2011 Augustana men's cross country team.
Augustana senior Mike Tisza (Hersey HS, Prospect Heights, Ill.) pulled down Most Valuable Runner honors for the 2011 men's cross country team. Tisza, a team co-captain, had an outstanding campaign which saw him finish as the Vikings top runner in four meets.
He was instrumental as Augustana spent most of the season in the top 20 of the NCAA Division III national ranking, according to the United States Track & Field/Cross Country Coaches Association (USTFCCCA). The Vikings finished the year ranked 25 th in the final poll, despite not being one of the 32 teams competing in the national meet.
Tisza did compete in the national meet, however, making the field as an individual after placing 15 th in the NCAA Division III Midwest Regional on November 12 at Saukie Golf Course in Rock Island. He opened the season with a second place finish at the Luther Invitational on September 10 and was fifth at the Brissman/Lundeen Invitational on September 23 at Saukie. He was also the top Augustana finisher at the Wisconsin-Oshkosh Invitational on October 15, taking 35 th.
Junior Justin Smith (Fenton HS, Bensenville, Ill.) was the winner of the Most Improved Runner award. He was a top-seven runner for the entire season and he finished 15 th at the College Conference of Illinois & Wisconsin championship on October 29.
Nick Gornick (York HS, Elmhurst, Ill.) was the winner of the Most Valuable Freshman honor. His best finish this year was a second at the Luther JV Cup in Decorah, Iowa on Friday, November 4.
Andrew Brimeyer (Dubuque Senior HS, Dubuque, Iowa) was named the Most Improved Freshman for 2011.
The Most Inspirational Award was shared by seniors Tisza, Thomas Christian (Port Angeles HS, Port Angeles, Wash.), Billy TenBusch (Prairie Ridge HS, Cary, Ill.) and Colin Johnson (Deerfield HS, Deerfield, Ill.).
Christian and Tisza were honored for their contributions as captains for the 2011 season.
The 2012 captains-elect are current juniors Jonathan Smith (Moline HS, Moline, Ill.), Brian Pollastrini (York HS, Elmhurst, Ill.) and Tommy Harris (Davenport Assumption HS, Davenport, Iowa).
Augustana enjoyed another tremendous season under the expert guidance of long-time head coach Paul Olsen, who completed his 46 th season in 2011. The Vikings finished the year ranked 25 th in NCAA Division III and won the Brissman/Lundeen Invitational and finished second in the Luther and Wartburg Invitationals.
2011 AUGUSTANA MEN'S CROSS COUNTRY ROSTER
| | | |
| --- | --- | --- |
| NAME | YEAR | HOMETOWN (HIGH SCHOOL) |
| Andrew Allabastro* | Sophomore | LaGrange, Ill./Lyons Township |
| Ryan Bertram* | Senior | Bolingbrook, Ill./Neuqua Valley |
| Andrew Brimeyer* | Freshman | Dubuque, Iowa/Dubuque Senior |
| Tyler Busch** | Sophomore | Winnebago, Ill./HS |
| Thomas Christian****(C) | Senior | Port Angeles, Wash./HS |
| Mitch Dietrich* | Sophomore | Quincy, Ill./Notre Dame |
| Nicholas Gornick* | Freshman | Elmhurst, Ill./York |
| Tommy Harris*** | Junior | Davenport, Iowa/Assumption |
| Colin Johnson* | Senior | Deerfield, Ill./HS |
| Patrick Manser* | Senior | Elburn, Ill./St. Charles North |
| Kyle McNicholas** | Junior | Orland Park, Ill./Carl Sandburg |
| Alexander Odenkirk* | Freshman | Tucson, Ariz./Ironwood Ridge |
| Dennis O'Flaherty* | Junior | Orland Park, Ill./Carl Sandburg |
| Brian Pollastrini*** | Junior | Elmhurst, Ill./York |
| Matt Simo* | Freshman | Elmhurst, Ill./York |
| Jonathan Smith*** | Junior | Moline, Ill./HS |
| Justin Smith*** | Junior | Bensenville, Ill./Fenton |
| Nathan Smith*** | Junior | Bensenville, Ill./Fenton |
| Alex Stockwell* | Sophomore | Glen Ellyn, Ill./Glenbard West |
| Billy TenBusch**** | Senior | Cary, Ill./Prairie Ridge |
| Mike Tisza****(C) | Senior | Prospect Heights, Ill./Hersey |
| Isaac Trostle** | Sophomore | Lombard, Ill./Willowbrook |
* Denotes letters won
HEAD COACH: Paul Olsen
ASSISTANT COACH: Doug Sand