December 13, 2011
2011-12 Season - Vikings improve to 7-3 with win over Aurora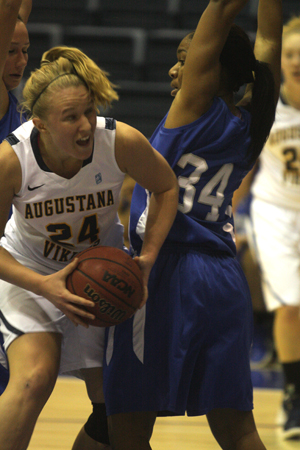 Senior Natalie Runge had a double-double of 15 points and 10 rebounds Tuesday to help lead Augustana to a 69-36 win over Aurora at Carver Center.
ROCK ISLAND, Ill. - Augustana used an enormous 59-23 edge on the boards to defeat Aurora 69-36 Tuesday night at Carver Center. With the win, the Vikings improve to 7-3 on the season heading into their final non-conference game Saturday, December 17 at Dubuque.
Despite shooting just .384 from the field in the contest, Augustana was able to pull away for the 33-point win due, in large part, to grabbing 31 offensive rebounds.
The Vikings held the Spartans without a field goal for almost eight and a half minutes in building up a 10-2 lead. The lead reached double digits for the first time, 19-8 on a Natalie Runge (St. Dominic HS, O'Fallon, Mo.) bucket with 7:22 left in the half. Molly Etheridge's (Normal Community HS, Bloomington, Ill.) jumper with 4:47 to go before halftime gave the hosts their biggest lead of the opening 20 minutes, 24-12. A Kristina Howard (Cherokee Trail HS, Aurora, Colo.) field goal with 1:37 left gave the Vikings a 29-18 lead at intermission. Augustana outrebounded Aurora 29-13 in the first half.
With Runge and Chaney Tambling (Dwight HS, Dwight, Ill.) each scoring two baskets, the Vikings put the game out of reach with a 10-0 run to open the second half. After shooting just .333 in the opening stanza, Augustana hit five of its first seven field goal attempts after the break to stretch the lead to 39-18.
The advantage reached 25 points, 50-25, on a Gianna Pecora (Downers Grove South HS, Darien, Ill.) put-back with 10:26 left and Runge's follow up basket two minutes later pushed it to 30 for the first time at 55-25. Augustana coach Bobbi Endress emptied her bench in the final five minutes as all 15 Vikings who dressed got into the contest.
Runge led the Vikings with 15 points and her 10 rebounds trailed only guard Whitney Miller's (Clinton HS, Clinton, Iowa) 11. Pecora, with 13 points and Etheridge, with 12, also scored in double figures. Plenty of Vikings helped out on the boards. Howard grabbed seven rebounds, Pecora and Tambling had six each and Etheridge and Brianna Skeens (Vernon Hills HS, Libertyville, Ill.) each had five. Skeens' came in just seven minutes of action. Etheridge led the way with four assists while Miller, Pecora and Tambling each had three. Pecora had a team-high three steals as well.
No Aurora player reached double figures in scoring as the Spartans fell to 2-8 on the year.
On Saturday, the Vikings travel to Dubuque, Iowa to face another group of Spartans from the University of Dubuque. Tipoff is scheduled to 2:00 p.m.