December 13, 2011
2011-12 Season - Clennon wins "Swimmer of the Week" in CCIW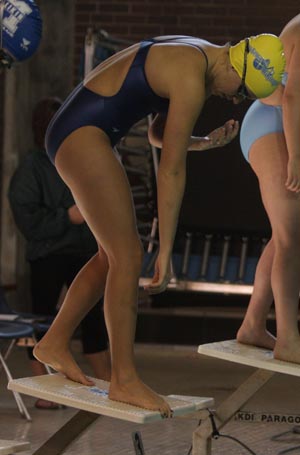 Junior Molly Clennon was named the "Swimmer of the Week" in the CCIW after she won the 200 and 500 freestyle events in a dual meet against Loras on Friday, December 9 in Dubuque, Iowa.
Junior Molly Clennon (Benet Academy, Naperville, Ill.) was selected as the "Swimmer of the Week" in the College Conference of Illinois & Wisconsin after her performance last Friday in a dual meet loss at Loras. She won two individual events and also swam a leg on a second place relay on December 9 in Dubuque, Iowa.
Clennon won the 200 freestyle in 2:06.45 and the 500 freestyle in 5:41.16. She also swam a leg on the second place 200 freestyle relay team that clocked a time of 1:46.75.
Clennon has had an outstanding start to her junior season as she has the Vikings' top times in four events so far. She stopped the watches at :58.34 in the 100 freestyle and 2:06.05 in the 200 freestyle at the Grinnell Invitational in Grinnell, Iowa on December 2-3. Her 500 freestyle time against Loras is the best for Augustana this year as is her time of 2:35.69 in the 200 backstroke at the Grinnell Invitational.
Also, Clennon has been a member of all five relay teams (200, 400 & 800 free and 200 & 400 medley) that have the best times on the squad.
A biology major, she is the daughter of Jack & Nancy Clennon of Naperville, Illinois.