Daughter tells mom: 'I'm in love'
How one student found out the place 'where I knew instinctively that I belonged'
(Editor's note: Hannah Bohn, a senior majoring in French and anthropology, remembers a turning point in her life when she attended Augustana's annual January Academic Departmental Open House & Scholarship Competition.
The 2014 event will be Jan. 18)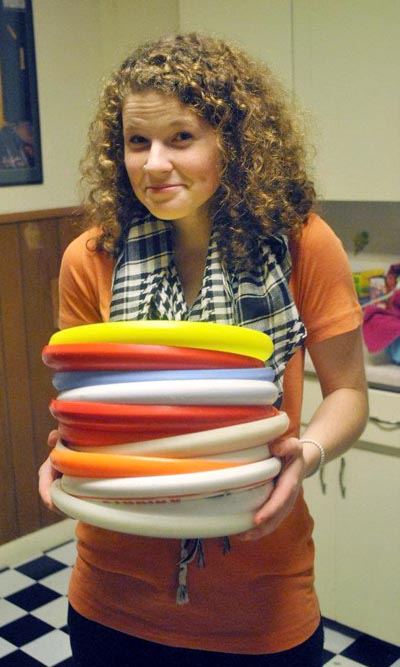 Hannah Bohn
By Hannah Bohn
In January of my senior year of high school, I made my first solo flight to Augustana College. I flew from Denver to the Quad Cities to attend the departmental scholarship day for accepted students.
Now I had already visited Augustana once before. The preceding summer, my mother and I took a three-day/five-school road trip through the Midwest, and Augustana was one of the last schools we visited. That day was lush and green and in the midst of a beautiful Rock Island summer. That day, my mother knew that I would end up here.
Half a year later, I arrived in the QC airport to snow and cold, and that night I decided that Augustana was where I was meant to be.
At this time I was mostly decided on Augustana. The campus was small yet beautiful; my prospective major was offered, my AP credits accepted. But, in all honesty, statistics and aesthetics and academics do not provide a complete picture of any college campus.
After arriving on campus and taking a casual and enjoyably long tour, I met my student hosts for the night. To say that these girls, now seniors at Augustana, influenced my enthusiasm toward being a student on this campus is a gross understatement. My first Friday night at college, playing music in the residence hall basement, was so meaningful to me that these girls, and the friends they call family, were the subject of my essay in the scholarship competition the next day.
Now I didn't receive a scholarship from my department that day. But I didn't care. I had found a place where I knew instinctively that I belonged.
In a whirlwind 48 hours I had tromped through the snow to La Rancherita, attended a piano recital, played beautiful music in a basement with people I had just met, and experienced my first day on a campus that is now my home.
Those girls I stayed with are now my older sisters here at Augustana. Those friends I met have become my family and the Augustana campus is now my playground. I know all the shortcuts and I smile whenever I lead a campus tour, remembering what it was like to feel lost and confused those first few days.
I know that this experience might not have been the same for everyone else at the scholarship competition that day. Some may have left that afternoon feeling no more interested in Augustana than when they arrived. Some may have been even more excited for classes to start in the fall. I called my mom from the airport and told her that I was in love. I was in love with the campus, the people, the way that I felt welcomed even though I didn't know anyone. I was even in love with the bitter cold.
While the departmental scholarship day is a significant opportunity to receive scholarships within a student's chosen field, to me it was more. It was the first time I realized what it meant to fit somewhere.