150+ ways to have fun and games at Augie
December  13, 2011
College isn't all fun and games. But, often it is.
Augustana students have formed more than 150 clubs and organizations on campus, and they introduce new ones every year. Some groups have had a longstanding presence, such as the Student Government Association (SGA) and Greek life. Others may seem too esoteric to attract enough members to live on. And yet, sometimes the quirkiest groups take off and keep their momentum going for years.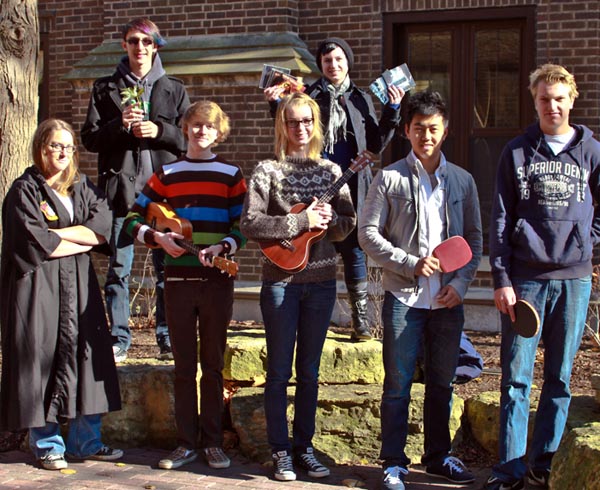 From left: Sarah Swindall '12, president of Quidditch Club, Stuart Casarotto '14, co-founder of AugiePonics, A.J. Boucek '14, co-founder of Ukeustana, Rosalie Starenko '15, member of Ukeustana, Emily Cochran '12, president of Heavy Metal Club, Lin Myat '13, co-founder of Table Tennis Club, and Maarten Vonk '15, co-founder of Table Tennis Club
Clogging, for example. This folk dance originated in Appalachia and is similar to tap. In 2007, twin sisters Chris and Kim Hedlin formed Clogustana — now clipping away with about 20 members, even after the Hedlins have graduated.
What's that I hear?
Almost as soon as they arrive on campus, new students get into the spirit of banding together to spark and share interests. The new ukulele club, "Ukeustana," attracted more than 10 members in the first weeks of fall term, and played its first group gig at Brew by the Slough in September.
Who knew there could be so many ukulele players in the incoming class? Club co-founders Sophie Juhlin and Madison Neece, both first-year students, heard each other strumming in their residence hall — Juhlin in her dorm room, Neece in the laundry room. They already had met fellow co-founder A.J. Boucek '14, who started playing at age 2, when his grandparents returned from Hawaii with a tiny instrument for him.
Boucek insists that anyone can learn to play. "Our club's goal is just to spread the joy of the ukulele," he said. Eventually, he'd like the group to play benefit shows, but in the meantime, playing ukulele is just a great way to hang out.
Table tennis, anyone?
Another first-year student, Maarten Vonk from Rotterdam, Netherlands, has played table tennis all his life. Imagine his pleasure on meeting a fellow Augustana student who could match his skill and speed with a paddle.
Vonk met his table tennis club co-founder, Lin Myat '13, playing in the PepsiCo Recreation Center. They began meeting regularly for matches that lasted hours. Their fast-paced games drew onlookers, and then challengers. Another club was born.
Myat is from Myanmar in East Asia, but the cold Midwestern winters don't stop him from having fun. "One day, I wore like seven layers of clothing and played football with my friends at the snow-covered PepsiCo field," he said. "It was one unforgettable experience for me, since I come from a very hot place!"
But table tennis can be enjoyed year-round. Once the club has at least eight players, Myat and Vonk plan to enter tournaments in the Quad Cities, and hope to play against other schools in the Midwest.
Grow your interests
Some clubs grow out of interests related to students' major fields of study. Stuart Casarotto, a sophomore majoring in engineering, physics and environmental studies, co-founded AugiePonics, a new group devoted to installing hydroponic systems on campus and promoting their use. Hydroponics is the small-scale agricultural method of growing plants using only nutrient solutions and water.
This fall, SGA provided AugiePonics the funding to buy the materials for a hydroponics system in the greenhouse of Hanson Hall of Science. Their first crop is sweet basil, which will be given to Augustana's dining services to be consumed by the campus community.
The long-term goal of AugiePonics is to have many such systems in place to grow food for the college. Casarotto hopes these efforts will "inspire people to think about where their food comes from, as well as encourage them to introduce green habits into their lives."
Senior Emily Cochran is majoring in German and Scandinavian studies, and also studies music. She is a member of the cello choir and was selected as this year's Sankta Lucia for the annual julsmörgåsbord, a Swedish Christmas celebration on campus.
So it should be no surprise that Cochran is president of an organization that explores what she describes as a "vast type of music that has spanned decades, and left a great impact on culture as we know it" — the heavy metal club.
This club is open to anyone, she says, whether "you've been a metalhead for several years or a few hours, or you're just curious to learn what metal music is all about." Members meet to share and discuss different kinds of heavy metal. This is to expand their music tastes, said Cochran, and also to explore "how the metal genre plays a role in our developing pop culture, both locally and internationally."
Chasing passions
One international pop culture phenomenon is so widely accepted across college campuses, it has even made its way into the curriculum — Augustana's included. It's Harry Potter, of course.
Senior Sarah Swindall is the founder and captain of Augustana's quidditch team. This club is right up her alley (Diagon Alley?). In her blog on student life at Augustana, Swindall wrote: "In my spare time when I'm not in class or playing quidditch, I enjoy writing fiction and poetry, vlogging on YouTube, and frequenting Starbucks. One of my favorite ways to pass the time is convincing various coffee shop employees that I am from Scotland. This time next year I will be teaching English to high schoolers in Slovakia, a place where I don't know the language and have near to zero contacts."
But she can be confident about her upcoming teaching position in Slovakia. Like other Augustana students, Swindall not only is well-prepared, but also willing to try new things and pursue her passions with a focus that can't be shaken. (Try riding a broom through campus, which is hilly and filled with trees.)
Swindall also notes in her blog, "Never will you get another chance to be involved in something like you do when you are at college." Next spring she will graduate with a bachelor's degree from Augustana College, and with the support of a strong community that believes time spent well outside the classroom is as necessary to a successful future as studies.