Event will honor the "drum major for justice"
December  12, 2011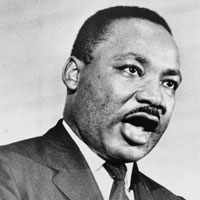 Dr. Martin Luther King
Augustana College and the Quad Cities' Dr. King Celebration Committee invite members of the community to join them for the annual tribute to Dr. Martin Luther King, Jr. The event will celebrate the legacy of this great leader through powerful speakers, music, dance and theatrical performances on Saturday, Jan. 14. The free, public event begins at 6 p.m. in Centennial Hall (3703 7th Ave).
This year, the program is focused on the quote that was placed on Dr. King's memorial: "If you want to say I was a drum major, say that I was a drum major for justice, peace and righteousness." The celebration will include performances by the Community Gospel Chorus, Imani! Dancers, The Westbrook Singers, Redeemed Voices, the Augustana Gospel Choir, Augustana's Department of Theatre Arts and I AM Productions, LLC. The celebration also will include a documentary about Dr. King and the presentation of The Power of One award.
The Martin Luther King, Jr. celebration has a long history in the Quad Cities. Originally an event sponsored by the Southern Christian Leadership Conference (SCLC) under the leadership of Pastor Charles Westbrook, the celebration now is organized each year by Augustana College and the Dr. King Celebration committee to honor the life and vision of one of America's great leaders. The Reverend Mark A. Anderson, assistant dean of students, and Nichole Payney of the Augustana Department of Theatre Arts are directing this year's program.
"This event is about celebrating our community," Anderson said. "It is not just about one person making a difference, but the power of our one community. It is about bringing together different faiths, cultures and ethnicities from the Quad Cities."
Anderson hopes the audience not only enjoys the performance, but also comes away with an important message. He said, "I hope attendees leave the Dr. King celebration inspired to change their world."
Sam Schlouch
Senior Communication Director
(309) 794-7833
samschlouch@augustana.edu