December 11, 2011
2011 Season - Fidlow wins MVP for men's soccer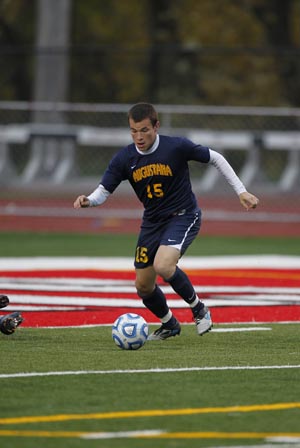 Senior Sean Fidlow was selected as the Most Valuable Player and the Best Offensive Player for Augustana in 2011 after leading the Vikings to a 13-6 overall record.
Senior midfielder Sean Fidlow (Carmel Catholic HS, Gurnee, Ill.) was selected as the Most Valuable Player for the 2011 Augustana men's soccer team, it was announced today. Fidlow, a three year letterwinner, finished the 2011 campaign with 13 goals and six assists for a total of 32 points. The 13 goals put Fidlow tied for 11th all-time on the single season goals scored list. Fidlow was also named to the All-CCIW second team for the second consecutive season.
Senior Cory DeGrave (Fremd HS, Palatine, Ill.) was voted the team's "Best Defensive Player" for the second season in a row. DeGrave, a three year letterwinner, played in 52 career games as a Viking. During those games, he helped the defense record 18 shutouts, including nine this season. The defense allowed just 19 goals in 19 games this year while finishing with a 13-6-0 record.
Fidlow also won the team's "Best Offensive Player", his second straight year receiving the award. To go along with his team high 32 points, Fidlow led the team with 54 shots and 34 shots on goal. He finished this year with five game winning goals and converted all three of his penalty kick opportunities.
Senior defenseman Brett Bleecher (Marist HS, Oak Lawn, Ill.) won the "Viking Award". Bleecher, a four time letterwinner, had two goals and an assist this season. Both of his goals were game-winners, including the overtime game-winning goal against conference rival Elmhurst.
Freshman midfielder Nathan Kyes (Oswego HS, Oswego, Ill.) was selected as the "Newcomer of the Year" after he played in 19 games, starting 12 of them, and tallied one goal and two assists for a total of four points. He attempted 28 shots with 16 of them on goal.
Augustana finished the year with a 13-6-0 overall record and placed fourth in the CCIW. The Vikings outscored their opponents by a 37-19 margin while outshooting their opponents 295-182. The Vikings also enjoyed their new home stadium, Thorson-Lucken Field. After being completed this summer, the Vikings found immediate success, winning their first seven games and finished with an 8-1 record at home.
Story written by Augustana sports information assistant Colin Johnson
2011 AUGUSTANA VIKINGS MEN'S SOCCER ROSTER
| | | | | | | |
| --- | --- | --- | --- | --- | --- | --- |
| NO | NAME | POS | HT | WT | YR | HOMETOWN/HIGH SCHOOL |
| 1 | Tyler Cowherd** | GK | 6-1 | 175 | So | Bettendorf, Iowa/HS |
| 2 | Chandler Brooks* | M | 6-1 | 165 | Fr | Bloomington, Ill./University |
| 3 | Jason Beckus*** | D | 5-11 | 185 | Jr | Naperville, Illinois/Neuqua Valley |
| 5 | Kevin Wyrostek*** | M | 5-11 | 182 | Jr | Naperville, Illinois/North |
| 6 | Kurt Negwer** | D | 5-8 | 170 | Sr | Florissant, Missouri/Lutheran North |
| 7 | Matt Shipon** | M | 5-9 | 170 | So | Elgin, Illinois/South |
| 10 | Kyle Polanco* | D | 5-6 | 136 | So | Frankfort, Illinois/Lincoln-Way North |
| 12 | Vincenzo Dal Pozzo* | F | 6-2 | 160 | Fr | Naperville, Ill./Neuqua Valley |
| 13 | Cory DeGrave*** | D | 5-9 | 165 | Sr | Palatine, Illinois/Fremd |
| 14 | Grant Halter** | M | 5-11 | 138 | So | Glen Ellyn, Illinois/Glenbard West |
| 15 | Sean Fidlow*** | M | 5-9 | 160 | Sr | Gurnee, Illinois/Carmel Catholic |
| 16 | Nathan Kyes* | M | 5-9 | 150 | Fr | Oswego, Ill./HS |
| 17 | Nick Wolfe*** | M | 5-7 | 137 | Jr | Naperville, Illinois/Neuqua Valley |
| 18 | John McSpadden** | F | 6-2 | 180 | So | Geneva, Illinois/HS |
| 19 | Evan Johnson** | M | 6-5 | 170 | So | Glen Ellyn, Illinois/Glenbard South |
| 20 | Adam Wilson** | M | 5-11 | 165 | So | Plainfield, Illinois/North |
| 21 | Adam Bengfort* | D | 5-11 | 175 | Fr | Davenport, Iowa/Assumption |
| 22 | Brett Bleecher**** | D | 6-0 | 180 | Sr | Oak Lawn, Illinois/Marist |
| 24 | Michael Buric** | D | 5-11 | 180 | So | Scottsdale, Arizona/Notre Dame Prep |
| 31 | Steven Zahrobsky** | GK | 5-11 | 165 | So | Woodridge, Illinois/Downers Grove South |
| 37 | Brett Johnson* | GK | 6-1 | 170 | Fr | Beach Park, Ill./Zion Benton Township |
HEAD COACH: Brenton Joseph
ASSISTANT COACHES: Scott Wallner & Eric Stewart