December 11, 2011
2011 Season - Jones named MVP for 2011 women's cross country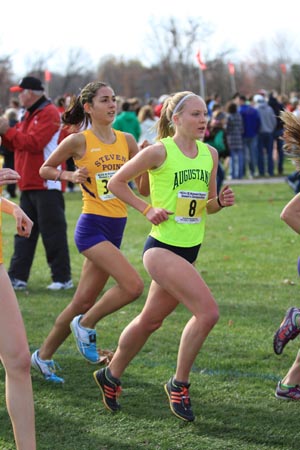 Junior Sarahbeth Jones was named the MVP for the 2011 Augustana women's cross country team. She was the Vikings' number one runner in every race she competed in and finished fifth in the College Conference of Illinois & Wisconsin championship.
Junior Sarahbeth Jones (Warren Township HS, Wadsworth, Ill.) started the 2011 women's cross country season at Augustana with a bang. She ended it as the Vikings' Most Valuable Performer, according to a vote of her teammates after the team's annual awards banquet on Sunday, December 11 at Blackhawk State Park.
Jones had been a solid top-seven performer in her first two years of competing for veteran head coach Fred Whiteside's team. This year, however, she rose to new heights as she was the Vikings' number one runner in each of the eight meets she competed in.
She started the season with a victory at the Augie Open on September 1 in sweltering heat at Sylvan Island Park. That began a string of success that didn't end until the NCAA Division III Midwest Regional Championship at Saukie Golf Course on Saturday, November 13.
Jones won both the Augie Open and the St. Ambrose Invitational on October 8. She also recorded top-10 finishes in three other invitationals. After winning the Augie Open, she was ninth at the Luther All-American Invitational on September 10 in Decorah, Iowa. She took seventh in the Brissman/Lundeen Invitational on September 23. Her next outing was the victory at St. Ambrose and she followed that with a third at the Loras Invitational on October 14.
She turned in a sterling performance at the College Conference of Illinois & Wisconsin championship meet on October 29 when she placed fifth with a time of 23:21 at Montrose Harbor in Chicago. Her season ended with a 27 th place finish at the Midwest Regional.
Rebecca Sund (Palatine HS, Palatine, Ill.) was named the Most Valuable Freshman. Her best finish during the 2011 campaign was at the Coe Invitational on September 30 when she finished second with a time of 19:41. She placed fifth at the Loras Invitational, sixth at the Augie Open and eighth at the St. Ambrose Invitational. She also took 13 th at the CCIW meet.
Senior Melissa Lehpamer (Plainfield South HS, Plainfield, Ill.) was honored as the team captain in 2011. The Erica Vortman "Viking Spirit Award" was shared by Lehpamer, junior Jennifer Prazak (Naperville North HS, Naperville, Ill.) and sophomore Kristen Whiteside (Zion-Benton HS, Winthrop Harbor, Ill.).
The Susan Wall "Most Improved Award" went to sophomore Kristyn Barton (York HS, Elmhurst, Ill.) and junior Amanda Rodriguez (Mahomet-Seymour HS, Mahomet, Ill.).
Augustana won two invitationals during the 2011 season, taking the Coe Invitational on September 30 in Cedar Rapids, Iowa and the St. Ambrose Invitational on October 8 in Bettendorf, Iowa. The Vikings were second in the Loras Invitational in Dubuque, Iowa on October 14 and placed third in the CCIW meet on October 29 in Chicago.
Jones, Prazak, Theresa Coverick (Stagg HS, Palos Park, Ill.) and Annie Heifner (Oregon HS, Oregon, Wis.) have been named as captains-elect for 2012. All four will be seniors next fall.
2011 AUGUSTANA WOMEN'S CROSS COUNTRY LETTERWINNERS
ATHLETE

YEAR

HOMETOWN (HIGH SCHOOL)

Jessica Bacon*

Freshman

Rock Island, Ill./HS

Kristyn Barton**

Sophomore

Elmhurst, Ill./York

Tara Bistry***

Junior

Shorewood, Ill./Joliet Catholic

Kristina Bowen*

Freshman

Elburn, Ill./Kaneland

Stephanie Burbidge*

Freshman

Palatine, Ill./HS

Theresa Coverick***

Junior

Palos Park, Ill./Stagg

Danielle Feldhaus****

Senior

Lynwood, Wash./Meadowdale

Emma Grandgeorge**

Sophomore

Sycamore, Ill./HS

Annie Heifner***

Junior

Oregon, Wis./HS

Hailey Jacobs*

Freshman

Woodstock, Ill./HS

Sarahbeth Jones***

Junior

Wadsworth, Ill./Warren Township

Rachel Kelly*

Freshman

Downers Grove, Ill./South

Katie Kornaus**

Sophomore

Portage, Wis./HS

Melissa Lehpamer*** (C)

Senior

Plainfield, Ill./South

Elizabeth Lundine*

Freshman

Villa Park, Ill./Willowbrook

Kerri McGrail*

Freshman

Plainfield, Ill./North

Kelsey Moon**

Sophomore

Wauconda, Ill./Mundelein

Amanda Pease*

Sophomore

East Moline, Ill./United Township

Kirstillyn Pohlman***

Junior

Winthrop Harbor, Ill./Zion Benton Township

Jennifer Prazak***

Junior

Naperville, Ill./North

Amanda Rodriguez**

Junior

Mahomet, Ill./Mahomet-Seymour

Nikita Rohr*

Junior

St. Charles, Ill./East

Lorraine Stamberger*

Freshman

LaMoille, Ill./HS

Kelsey Stockert**

Sophomore

Mapleton, Ill./Peoria Notre Dame

Rebecca Sund*

Freshman

Palatine, Ill./HS

Kristen Whiteside*

Sophomore

Winthrop Harbor, Ill./Zion Benton Township
* Letters earned
(C) – Team captains
HEAD COACH: Fred Whiteside