December 10, 2011
2011-12 Season - Vikings fourth at North Central Invitational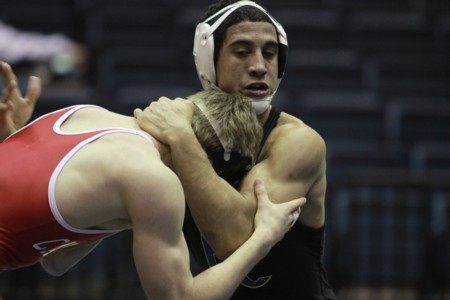 Senior Alberto Quiros captured third place at 149 pounds Saturday, helping Augustana to a fourth-place team finish at the North Central Invitational.
NAPERVILLE, Ill.-Sophomore Jordan Richardson (Grandville HS, Wyoming, Mich.), who captured second place at 184 pounds, led seven Augustana place winners Saturday as the 27th-ranked Vikings took fourth place at the 13-team North Central Invitational. Senior Alberto Quiros (J. Sterling Morton HS, Berwyn, Ill.) at 149 pounds and junior Matt Burns (Naperville Central HS, Naperville, Ill.) at 165, claimed third-place finishes.
Augustana finished with 114 points, trailing Olivet (189), Concordia-Moorhead (160.5) and Wabash (123). The host Cardinals were fifth (106.5).
Richardson's day started with a 3-0 decision over Wesley Mathieu of Wisconsin-Platteville. He advanced to the quarterfinals when Daniel Sandberg of Wabash defaulted and then reached the semifinals with a 4-2 decision over Concordia-Moorhead's Zach Deffinbaugh. He defeated Caleb Staub of the Milwaukee School of Engineering 3-0 in the semis, but fell 6-2 to top-seeded Greg Rhoads of Wabash in the final.
After a first-round bye, Quiros opened with a pin of Mt. St. Joseph's Tevin Byers and advanced to the semis with a 6-1 decision over MSOE's Josh Wengerter. There, Quiros fell 6-2 to second-seeded Gage Pederson of Olivet. He beat Olivet's Kyle Witgen 6-2 in wrestlebacks and defeated Kyle LeDuc of Concordia-Moorhead 4-2 in the third-place match.
Burns also received a first round bye then recorded back-to-back pins over Mt. St. Jospeh's Matt Collins and Luke Sims of Wheaton. He dropped his semifinal match 8-4 to Dalton Stanley of Wabash, but bounced back with a 9-0 win over Olivet's Rocky Cantu and a pin of MSOE's Peter Kootstra in the third-place match.
Steve Poffenberger (Allegan HS, Paw Paw, Mich.) was a fourth-place finisher at 133 pounds. He scored wins over Lakeland's Eduardo Orihuela (pin), North Central's Jonathan Williamson (11-5) and Olivet's Kameron Olsen (3-2) before falling 2-0 top top-seeded Nathan Fitzenreider of North Central. He scored a technical fall over Concordia-Moorhead's Jake Kostik, but dropped the third place match 6-2 to Timothy Wunnicke of Wisconsin-Platteville.
Junior Hunter Feraco (Gull Lake HS, Battle Creek, Mich.) wound up fifth at 197 pounds. He started the tournament as the second seed and he pinned Ethan Hokanson of Maranatha Baptist in the first round at 2:48. He beat Andriot Logan of Mt. St. Joseph 15-7 in the quarterfinals. In the semi-final he dropped a 2-0 decision to third seeded Justin Leonard of Olivet. In the wrestleback round he fell to fourth seeded Logan Cooper of Wabash by a score of 7-5. He bounced back from that loss to beat Andrew Peterson of Concordia-Moorhead 4-1 for fifth place.
The Vikings took fourth, fifth and seventh place in the 285-pound weight class. After a first-round bye, John Schraidt (Riverside-Brookfield HS, Riverside, Ill.) pinned Wabash's Ian Kelton and beat MSOE's Austin Karls 21-7. He dropped his semifinal match by fall to top-seeded Cody Kasprick of Concordia-Moorhead. He bounced back by winning a 2-1 decision over MSOE's Steven Nguyen before being pinned by Olivet's Jake Ceslick in the third-place match. John Seaman (Munster HS, Munster, Ind.) defeated Nguyen 6-3 to capture fifth place. He had dropped a 7-5 decision to Ceslick in his prior match. His day started with a pin of Lakeland's Andrew Wagner, followed by a 10-5 win over Dylan McBride of Wabash and a pin of Nguyen. Second-seed Logan Renas of Olivet scored a technical fall over Seaman to send him to the consolation bracket. Augustana's Abe Duran (East Aurora HS, Aurora, Ill.) took seventh place with a 3-1 decision over Zach Stone of Wabash. That avenged a second-round 4-3 defeat at the hands of Stone. Duran had received a first-round bye. In wrestlebacks, he pinned Karls before dropping a 3-2 decision to Ceslick.