December 9, 2011
2011 Season - Skeens named MVP for 2011 volleyball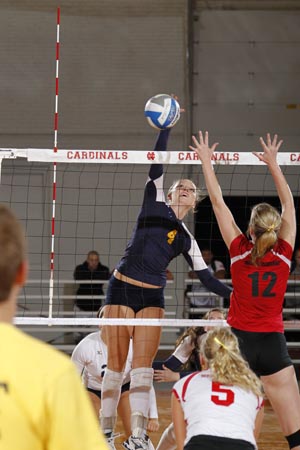 Senior Brianna Skeens was named the Most Valuable Player on the 2011 Augustana volleyball team.
Senior middle hitter Brianna Skeens (Vernon Hills HS, Libertyville, Ill.) wrapped up a fine career at Augustana by being named the Vikings' Most Valuable Player for the recently concluded 2011 season. Skeens, one of three captains for second year head coach Jamie Walters' team, was one of the top offensive weapons during her final year.
She led the team in total kills with 331 and her kills-per-game average of 2.98 (331 kills in 111 games) was also tops for the Vikings. In addition, her kill percentage of .220 (331 kills with 137 errors in 881 total attempts) was the highest on the Augustana team. For good measure she had the second-highest block-per-game average of 0.68 with 76 total blocks (24 solo & 52 assists) in 111 games.
She ended the year in sixth place in the College Conference of Illinois & Wisconsin in kills with an average of 3.08 in league games only (77 in 25 games). She also had a single match performance of 27 kills on October 22 against Carroll that was the 10 th best single match performance in Augustana history. Skeens is the daughter of Bill and Sue Ellen Skeens of Libertyville, Illinois and is majoring in sociology.
Junior Sarah Williams (Rockford Lutheran HS, Loves Park, Ill.) was selected as the winner of the Augie Award for spirit and dedication. It is the second time in the past three seasons that Williams has earned this honor. She served as one of the tri-captains for the Vikings in 2011 and led the team in games played with 115. She averaged 1.30 kills per game with 150 kills in 115 games played and had a kill percentage of .215 (150 kills with 46 errors in 483 total attempts). She was the team leader in blocks with a 0.75 blocks-per-game average (86 total blocks in 115 games). She is the daughter of Patrick Williams of Garden Prairie, Illinois and Lynn Williams of Loves Park, Illinois and is majoring in Communicative Sciences Disorders.
Defensive specialist Amber Dalgaard (Antioch HS, Antioch, Ill.) and setter Stephanie Petkovsek (Lisle HS, Lisle, Ill.), both freshmen, shared the Most Improved Player award. Dalgaard saw action in 39 games and recorded a total of 45 digs (1.15 per game average) while Petkovsek played in 29 games and had 84 assists for a 2.90 average. Dalgaard is the daughter of James and Sherry Dalgaard of Antioch, Illinois while Petkovsek is the daughter of Andy and Toni Petkovsek of Lisle, Illinois.
Freshman outside hitter Emily Leazer (St. Viator HS, Arlington Heights, Ill.) was named the "Freshman of the Year". Leazer, who made all-tournament teams at the Viking Classic on September 2-3 and the Stevens Point Tournament on Octover 21-22, led the team in kill attempts with 985. She had 295 kills and averaged 2.59 kills per game. She also had 390 digs for a 3.42 average and led the squad in service aces with 36. She is the daughter of John and Ann Leazer of Arlington Heights, Illinois.
Freshman Astin Moravek (Riverside-Brookfield HS, Riverside, Ill.) won the Augie Award for the junior varsity.
2011 AUGUSTANA VOLLEYBALL LETTERWINNERS
| | | | | |
| --- | --- | --- | --- | --- |
| NAME | POS | HT | YR | HOMETOWN (HIGH SCHOOL) |
| Katrina Colclasure** | DS/S | 5-5 | So | Bloomington, Ill./Tri-Valley |
| Dory Dudley* | OH | 5-9 | Fr | Tremont, Ill./HS |
| Samantha Kammerman* | OH | 5-9 | Fr | Milan, Ill./Sherrard |
| Emily Leazer* | OH | 5-9 | Fr | Mt. Prospect, Ill./St. Viator |
| Kelsey Mikula*** (C) | S | 5-6 | Jr | Coal City, Ill./HS |
| Julee Morrison* | DS | 5-5 | Fr | Scottsdale, Ariz./Chaparral |
| Brianna Skeens*** (C) | MB | 5-10 | Sr | Libertyville, Ill./Vernon Hills |
| Morgan Stittleburg** | RS | 5-11 | So | Black River Falls, Wis./HS |
| Sarah Williams** (C) | MB | 5-9 | Jr | Loves Park, Ill./Rockford Lutheran |
HEAD COACH: Jamie Walters
ASSISTANT COACH: Steve Hennings, Kelly Kelley
ATHLETIC TRAINER: Anna Smith