December 10, 2011
2011-12 Season - Seniors lead in win over Stevens Point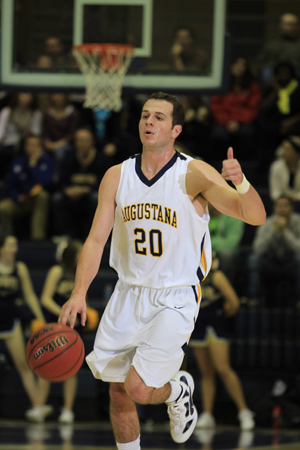 Senior Brian DeSimone had 13 points, two assists, two steals, a blocked shot and no turnovers Saturday night as fourth-ranked Augustana defeated 21st-ranked Wisconsin-Stevens Point 69-64 at Carver Center.
ROCK ISLAND, Ill.-Augustana's trio of senior co-captains led the way Saturday night as the fourth-ranked Vikings held off 21st-ranked Wisconsin-Stevens Point 69-64 at Carver Center. Bryant Voiles (Byron HS, Byron, Ill.) had a double-double of 20 points and 11 rebounds, while Brian DeSimone (Buffalo Grove HS, Wheeling, Ill.) added 13 points and Troy Rorer (Bettendorf HS, Bettendorf, Iowa) 10.
A basket by Luke Scarlata (J. Sterling Morton HS, Berwyn, Ill.) with 11:31 left in the game gave Augustana a 43-41 lead, breaking the final tie of the contest. It also started a 12-0 run that gave the Vikings their biggest lead of the night at 53-41 with 7:07 remaining. The Pointers cut the lead under double digits four times in the next six minutes, but each time Augustana answered. First, on a Voiles basket in the lane, next on a DeSimone jumper from the elbow, then on a George Dexter (Bettendorf HS, Bettendorf, Iowa) jump hook and finally on a pair of DeSimone free throws that put the Vikings up 61-51 with 1:12 left.
Stevens Point wouldn't go away, cutting the lead to five with 16 seconds left. However, Kameron Norton (Downers Grove North HS, Downers Grove, Ill.) sealed the win with a pair of free throws with five seconds left. A desperation three just before the final gun by Pointer Dan Tillema cut the final margin to five.
A Voiles three and a basket by Scarlata gave the hosts an early 5-0 lead. After Stevens point tied it on a Tyler Tillema jumper and a three from Jordan Giordana, Augustana went on an 8-4 run to take a 13-9 advantage. Another Tyler Tillema jumper at the 9:49 mark of the first half gave the visitors their first lead of the night at 16-15. He scored again twenty seconds later to give the Pointers a lead they wouldn't relinquish until the second half.
Tyler Tillema finished the opening stanza with 16 points on eight-of-10 shooting from the field as Stevens Point took a 32-29 advantage to the locker room.
The Pointers maintained the lead until the 14:44 mark when Brandon Kunz (Lake Zurich HS, Lake Zurich, Ill.) hit the first of two free throw attempts to draw the Vikings even at 36. Augustana's Danielius Jurgutis (Downers Grove South HS, Darien, Ill.) and Tyler Tillema traded baskets before another Kunz free throw and a basket by Chris Anderson (West Carroll HS, Mt. Carroll, Ill.) gave the Vikings a 41-38 advantage with 12:57 left.
The visitors would forge one last tie, on a Tyler Tillema three, before Scarlata's bucket started the run that put Augustana ahead for good.
After the Pointers shot .519 (14 of 27) from the field in the first half, the Vikings held them to just .333 (10 of 30) shooting in the second twenty minutes. Stevens Points, which came in shooting a blistering .444 from three-point range, connected on just five of 25 (.200) from beyond the arc. Another key was Augustana's 43-29 edge on the glass, which included 14 offensive rebounds.
In addition to his 13 points, DeSimone had two assists, two steals, a blocked shot and no turnovers in 30 minutes of action. Norton joined the three co-captains in double figures with 10 points as the Viking bench outscored its counterpart from Stevens Point 14-0 for the game.
The win bumps Augustana's record to 7-1 on the year while the Pointers fall to 6-2. Next up for the Vikings is a home contest Wednesday, December 14 against the University of Chicago. Tipoff at Carver Center is scheduled for 7:30 p.m.