December 10, 2011
2011-12 Season - Vikings fall to hot-shooting Dutch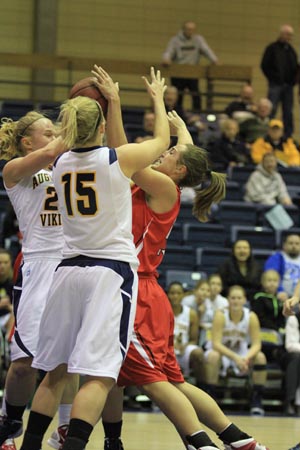 Natalie Runge (left) and Brianna Skeens (15) battle for a rebound in Saturday's 84-76 loss to Central of Iowa in the Carver Center.
ROCK ISLAND, Ill. - Torrid shooting, especially in the second half, helped Central of Iowa come away from the Carver Center with an 84-76 victory over Augustana on Saturday, December 10. The Dutch hit .625 (15 of 24) from the floor in the second half and .510 (26 of 51) for the game and overcame an early 9-0 deficit.
Augustana scored the first nine points of the contest and led by as many as 11 points (18-7 at the 11:27 mark) in the first half. Central went on a 14-2 run at that point and took the lead (21-20) with 7:47 remaining before intermission on a basket by Sarah Paulson. The Vikings managed to take a 34-33 lead into the locker room at halftime.
In the second half, however, the Dutch rarely missed, connecting on 15 of 24 from the floor and 18 of 19 from the free throw line. For the entire game Central hit 26 of 28 free throws.
Paulson scored a game high 23 points and Alyssa Schwartz had 21. Schwartz was four of six from the field, including three of three from three point range, 10 of 10 from the charity stripe, grabbed seven rebounds and had three assists.
Senior Natalie Runge (St. Dominic's HS, O'Fallon, Mo.) and sophomore Molly Etheridge (Normal Community HS, Bloomington, Ill.) each had 17 points to lead the Vikings. Junior Gianna Pecora (Downers Grove Downers Grove South HS, Downers Grove, Ill.) had 12 and senior Whitney Miller (Clinton HS, Clinton, Iowa) dropped in 11. Miller had eight assists and Etheridge had six.
Central of Iowa evened its record at 4-4 while Augustana fell to 6-3. The Vikings will host Aurora at 7:30 p.m. on Tuesday, December 13 in the Carver Center.