December 8, 2011
2011-12 Season - Vikings beat Simpson & Central of Iowa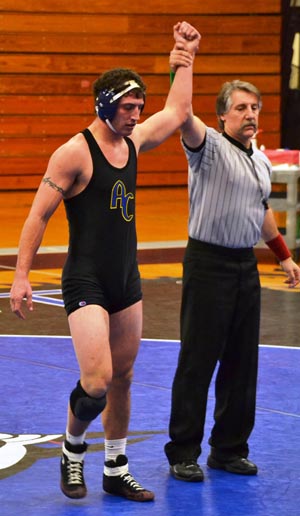 Jordan Richardson was one of five Vikings to win both matches as Augustana defeated Central of Iowa and Simpson on Thursday, December 8 in Indianola, Iowa.
INDIANOLA, Iowa - In an impressive showing the 27th ranked Augustana wrestling team won a pair of dual meets on Thursday, December 8 in Indianola, Iowa. The Vikings of head coach Eric Juergens dispatched of Central of Iowa (21-10) and Simpson (28-12) to move to 3-1 on the season.
Junior Steve Poffenberger (Allegan HS, Paw Paw, Mich.), senior Alberto Quiros (Morton East HS, Cicero, Ill.), junior Matt Burns (Naperville Central HS, Naperville, Ill.), sophomore Jordan Richardson (Grandville HS, Wyoming, Mich.) and junior Hunter Feraco (Gull Lake HS, Battle Creek, Mich.) all picked up two victories on the evening.
Augustana will not get much time to rest as the Vikings will compete in the North Central Invitational on Saturday, December 10 in Naperville, Illinois.
AUGUSTANA 21, CENTRAL OF IOWA 10
After spotting the Dutch a 4-0 lead after the 125 pound weight class, the Vikings ripped off three straight victories to take a 9-4 advantage. Poffenberger defeated Kalen Greiner 3-2 at 133 and junior Greg Gogonas (Bowie HS, Austin, Texas) followed with an 11-5 win over Chris Kilgannon at 141. Quiros won at 149 by a score of 4-2 over Ryan Davis.
After a loss at 157 narrowed the lead to 9-7, Augustana got a 7-2 win by Burns over Colten Moore at 165 to jump ahead 12-7. At 174 the Vikings fell but finished the match with three straight victories to clinch the win. Richardson beat Tyler Lowry 6-3 at 184 and Feraco beat Dan Gordon 6-4 at 197. Freshman John Schraidt (Riverside-Brookfield HS, Riverside, Ill.) beat Jake Crawford 9-6 at 285 to account for the final score.
AUGUSTANA 28, SIMPSON 12
The Vikings used three pins to propel them to a 28-12 win over Simpson in the nightcap of this double dual. Trailing 9-7 after a loss at 157, Burns pinned Greg Harlow at the 1:53 mark of the 165 pound weight class to put Augustana in the lead 13-9.
Freshman Seth Whan (Sherrard HS, Viola, Ill.) beat Justin Bruce 8-5 at 174 to make it 16-9 and Richardson pinned Taylor Witzel at 1:25 in the 1984 pound match. That made the score 22-9 and Feraco pinned Ryan Haworth at 5:58 of the 197 pound weight class to push the margin to 28-9.
Poffenberger beat Spencer Courier 11-2 at 133 and Quiros beat Cory Stratton 6-4 at 149.
Thursday, December 8, 2011
Double dual against Central of Iowa and Simpson in Indianola, Iowa
#27 AUGUSTANA 21, CENTRAL OF IOWA 10
125 – Daniel Page (CE) beat Thomas Browne (A) 18-6
133 – Steve Poffenberger (A) beat Kalen Greiner (CE) 3-2
141 – Greg Gogonas (A) beat Chris Kilgannon (CE) 11-5
149 – Alberto Quiros (A) beat Ryan Davis (CE) 4-2
157 – Josh Atwell (CE) beat Alex Bowers (A) 16-12
165 – Matt Burns (A) beat Colten Moore (CE) 7-2
174 – Tommy Van Renterghem (CE) beat Connor Cummings (A) 9-5
184 – Jordan Richardson (A) beat Tyler Lowery (CE) 6-3
197 – Hunter Feraco (A) beat Dan Gordon (CE) 6-4
285 – John Schraidt (A) beat Jake Crawford (CE) 9-6
Augustana (2-1) & Central of Iowa (1-2)
#27 AUGUSTANA 28, SIMPSON 12
125 – Mike Nemer (S) beat Thomas Browne (A) 6-0
133 – Steve Poffenberger (A) beat Spencer Courier (S) 11-2
141 – Jeff Sand (S) beat Greg Gogonas (A) 6-2
149 – Alberto Quiros (A) beat Cory Stratton (S) 6-4
157 – Brian Haynes (S) beat Torey Welch (A) 9-2
165 – Matt Burns (A) pinned Greg Harlow (S) @ 1:53
174 – Seth Whan (A) beat Justin Bruce (S) 8-5
184 – Jordan Richardson (A) pinned Taylor Witzel (S) @ 1:25
197 – Hunter Feraco (A) pinned Ryan Haworth (S) @ 5:58
285 – Jared Bevins (S) beat Abe Duran (4-3)
Augustana 3-1 & Simpson 1-3
Augustana is currently ranked 27th in NCAA Division III by the National Wrestling Coaches Association