December 6, 2011
2011-12 Season - Rebounding advantage keys win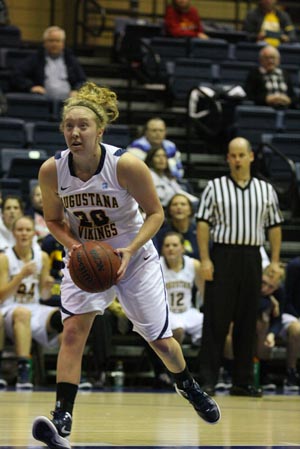 Senior Elizabeth Phillips scored four points and grabbed four rebounds to help lead Augustana to a 61-38 non-conference victory over Robert Morris-Springfield on Tuesday, December 6. With the win the Vikings moved to 6-2 overall.
SPRINGFIELD, Ill. - A whopping 50-33 advantage in rebounding helped pave the way as Augustana defeated Robert Morris-Springfield 61-38 on Tuesday, December 6 in Springfield, Illinois. The Vikings also put the defensive clamps on the Eagles, forcing them to shoot just .258 (13-51) from the floor.
Augustana jumped out early, led 26-15 at halftime and at one time held a 27 point (57-30) advantage in the second half. In the first 20 minutes, head coach Bobbi Endress' team allowed the home team just four field goals, in 26 attempts for a .154 shooting percentage.
All 15 players who made the trip for Augustana saw action in the game and 10 of those scored. The leading scorer was sophomore Amy Hicks (Rockford Christian HS, Rockford, Ill.), who came off the bench to pour in 17 points and grab seven rebounds. She was seven of 12 from the floor, including one of two from three point range, and hit on two of four free throws.
Joining Hicks in double figures was sophomore Molly Etheridge (Normal Community HS, Bloomington, Ill.) with 10 points. Senior Whitney Miller (Clinton HS, Clinton, Iowa) had eight points and a team high three assists.
Robert Morris did not have a single player in double figures with Ashley Beal leading the way with nine points.
With the victory, Augustana is now 6-2 for the season heading into a non-conference home game against Central of Iowa on Saturday, December 10 at 5:00 p.m. in the Carver Center.