December 7, 2011
2011 Season - Football names 2011 award winners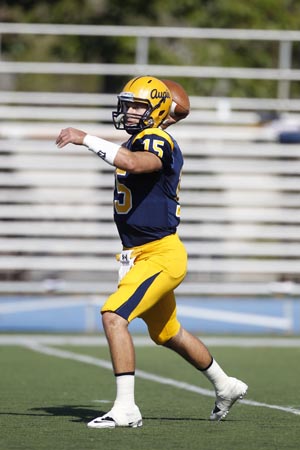 Senior David Lee won the offensive MVP award for the 2011 Augustana football season. It was the third straight season that Lee was named the Vikings' offensive MVP.
Sophomore linebacker Erik Westerberg (York HS, Elmhurst, Ill.) has been named the Most Valuable Player for the 2011 Augustana football team. He also was chosen as the Viking's defensive MVP. Senior quarterback David Lee (Springfield HS, Springfield, Ill.) was named offensive MVP, and junior punter Arnie Fitzwater (Waterford Union, Waterford, Wisc.) was tabbed as the special teams' MVP.
Westerberg, a CoSIDA and Capital One first team all-district and second team academic All-American, as well as first team All-CCIW honoree led the Viking defense this year. The 6'3", 200-pound sophomore finished with a team high 106 tackles, including 72 solo stops and 34 assists, both team highs. This put him at eighth in the nation in solo tackles and tied for 34th in total tackles. In CCIW play, Westerberg's 10.3 tackles per game was the highest average of any CCIW player. Westerberg also had two tackles for loss and one interception on the year.
Lee, a team captain, saw his illustrious career at Augustana end, but not before he entrenched himself in the record books. A three-time team offensive MVP, Lee set eight school passing and total offense records during his time here, including career pass completions (515) and attempts (839) as well as single-season marks for passing yards (2,411), pass completions (195), pass attempts (317) and total offense (2,665). Lee also holds single-game standards for pass completions with 28 (three times) and passing yards (429). This season Lee completed 165 of 282 attempts (58.5%) for 1,713 yards. He had nine touchdowns while being intercepted only seven times this season, giving him 37 touchdown passes for his career. The 6'3", 219-pound Lee also ran for 154 yards and four touchdowns on 67 attempts, finishing fourth on the team in total rushing yards. Lee was also named a semifinalist for the William V. Campbell trophy and chosen to play in the 2011 Tazon de Estrellas (Bowl of the Stars) on Saturday, December 17th in Puebla, Mexico.
Fitzwater had a career year after focusing solely on punting this season. A first team All-CCIW pick, Fitzwater led the conference with a gross average of 41.0 yards per kick in league play and a net average of 36.9 yards. Including the entire season, his 40.5 yard gross (12th in the nation) and 36.0 net (which placed Augustana 6th in the nation as a team) were outstanding. Fitzwater also held some kickoff duties, averaging 52.4 yards on 15 kickoffs.
Freshman wide receiver and kick returner Antonio Owens (Naperville North HS, Naperville, Ill.) was awarded Newcomer of the Year. During the season he was very busy rushing, receiving and returning kicks. He finished with 129 yards on 29 attempts rushing (4.4 yard average). He also was the fourth leading receiver on the team, catching 15 passes for 155 yards (10.3 yard average). He also was a top five kick-returner in the CCIW, averaging 16.5 yards per return. During the season, he returned a total of 24 kicks for 408 yards, an average of 17.0 yards per return.
Senior captain Cody Wickenhauser (Tri-Valley HS, Downs, Ill.) was named the Jerry Freck Most Inspirational Award winner. The 5'11", 230-pound linebacker played in nine games and recorded 25 tackles, including 1.5 tackles for loss. He had 18 solo stops to go along with seven assists. Wickenhauser also had one quarterback hit and one fumble recovery on the season. Wickenhauser's award is named for the late Jerry Freck, who was the Augustana team manager in the late 1970's and it symbolizes the intangible concept of being a team player and contributing wherever possible to the success of the Vikings.
The Vikings finished 2-8 in 2011 and tied for fifth in the CCIW at 2-5.
2011 AUGUSTANA VIKINGS FOOTBALL LETTERWINNERS
| | | | | | | |
| --- | --- | --- | --- | --- | --- | --- |
| NO | NAME | POS | HT | WT | YR | HOMETOWN/HIGH SCHOOL |
| 1 | Armin Batang* | WR | 5-10 | 160 | Fr | Northbrook, Illinois/Glenbrook North |
| 2 | AJ Hoger*** | RB | 5-7 | 163 | Sr | Cary, Illinois/Cary Grove |
| 3 | Robert Mago*** | DB | 5-9 | 180 | Jr | Cary, Illinois/Cary Grove |
| 4 | Nate Pena*** | RB | 5-8 | 207 | Jr | Bolingbrook, Illinois/Neuqua Valley |
| 5 | Caleb Nickels* | LB | 5-10 | 185 | Fr | Northridge, California/Sierra Canyon |
| 7 | Sean Walker** | DB | 5-10 | 180 | So | Annawan, Illinois/Annawan |
| 8 | Antonio Owens* | WR | 5-9 | 165 | Fr | Naperville, Illinois/North |
| 10 | Nick Welch** | QB | 6-3 | 200 | Jr | Oswego, Illinois/HS |
| 11 | Ben Hall**** | DB | 6-0 | 200 | Sr | Normal, Illinois/University |
| 12 | Zachary McCullough**** | WR | 6-2 | 195 | Sr | St. Charles, Illinois/North |
| 15 | David Lee***(C) | QB | 6-3 | 219 | Sr | Springfield, Illinois/HS |
| 16 | Brady Rogers* | K/P | 5-11 | 165 | Fr | Aurora, Colorado/Cherokee Trail |
| 17 | Torre Harrell* | WR | 6-1 | 165 | Fr | Bloomington, Illinois/HS |
| 18 | Erik Reibel* | WR | 5-11 | 195 | Sr | McHenry, Illinois/Marian Central |
| 20 | Tyler Trimberger*** | RB | 5-9 | 195 | Sr | Chatham, Illinois/Chatham-Glenwood |
| 22 | Joe Spindler** | LB | 6-0 | 195 | Jr | Rockton, Illinois/Hononegah |
| 23D | Tim Maroder* | WR | 6-0 | 195 | Fr | Elgin, Illinois/Central |
| 23 | Taylor Joehl** | WR | 5-10 | 190 | Sr | Arenzville, Illinois/Concord-Triopia |
| 25 | Mitch McGilliard**** | OLB | 6-0 | 200 | Sr | Naperville, Illinois/Neuqua Valley |
| 27 | Matt Glawe*** | DB | 5-10 | 195 | Sr | Winfield, Illinois/Wheaton Warrenville South |
| 28 | Mack Gray**** | DB | 5-7 | 190 | Sr | Chicago, Illinois/Simeon Career Academy |
| 29 | Eric Chandler** | RB | 5-9 | 212 | So | Cary, Illinois/Cary Grove |
| 30 | Danny Hess**** | OLB | 5-7 | 180 | Sr | Naperville, Illinois/North |
| 31 | Bo Goshorn* | DB | 6-2 | 180 | Fr | Romeoville, Illinois/HS |
| 32 | Brett McWilliams* | RB | 6-2 | 220 | Jr | Roscoe, Illinois/Hononegah |
| 33 | Arnie Fitzwater*** | K | 6-3 | 205 | Jr | Waterford, Wisconsin/Waterford Union |
| 34 | Benjamin Hodges* | RB | 5-8 | 190 | Fr | Elburn, Illinois/St. Charles North |
| 35 | Jack Gilleland*** | TE | 6-1 | 240 | Sr | McHenry, Illinois/Marian Central |
| 36 | Sean Lanham* | K | 5-8 | 180 | Fr | Lake St. Louis, Missouri/Wentzville Holt |
| 38 | Luke Anderson* | DE | 6-5 | 250 | Jr | Lemont, Illinois/HS |
| 39 | Dylan Smith* | LB | 5-11 | 210 | So | Yorkville, Illinois/Aurora Christian |
| 41 | Erik Westerberg** | LB | 6-3 | 211 | So | Elmhurst, Illinois/York |
| 42 | Mike O'Donoghue** | OLB | 6-1 | 200 | So | Mundelein, Illinois/HS |
| 43 | Ryan Coleman* | LB | 6-2 | 225 | So | Carol Stream, Illinois/Wheaton North |
| 44 | Pete Schimeck*** | DE | 6-1 | 240 | Sr | Naperville, Illinois/Benet Academy |
| 45 | Joe Weber** | LB | 6-2 | 240 | Jr | South Elgin, Illinois/Marmion Academy |
| 46 | Grant Ollenburger*** | OLB | 6-2 | 210 | Sr | Evergreen Park, Illinois/HS |
| 47 | John Draminski*** | LB | 6-0 | 207 | Jr | Kewanee, Illinois/Wethersfield |
| 48 | Sean Mulholland** | TE | 6-2 | 221 | So | Clinton, Iowa/HS |
| 49 | Shane Holl*** | DE | 6-2 | 255 | Sr | North Aurora, Illinois/Batavia |
| 50 | Erik Hansen* | LB | 6-0 | 225 | Jr | Elmhurst, Illinois/Immaculate Conception |
| 51 | Andrew O'Reilly*** | LB | 6-0 | 220 | Jr | Elgin, Illinois/Driscoll Catholic |
| 54 | Will Hass* | DL | 6-3 | 249 | So | Algonquin, Illinois/Marian Central Catholic |
| 55 | James Stratton* | LB | 6-1 | 225 | So | Sherrard, Illinois/HS |
| 56 | Anthony Roome* | OL | 6-2 | 280 | Fr | Geneseo, Illinois/HS |
| 57 | Sean McIntyre* | DE | 6-2 | 230 | Fr | Genoa, Illinois/Genoa-Kingston |
| 58 | Cody Wickenhauser****(C) | LB | 5-11 | 227 | Sr | Downs, Illinois/Tri-Valley |
| 59 | Alex Anderson* | DE | 6-2 | 255 | Fr | Geneseo, Illinois/HS |
| 61 | Kelly Clennon**** | OL | 6-2 | 265 | Sr | Naperville, Illinois/Joliet Catholic |
| 63 | Trace Wingo** | OL | 6-2 | 285 | So | Crystal Lake, Illinois/South |
| 64 | Adam Lang** | OL | 6-2 | 280 | Sr | Rock Island, Illinois/HS |
| 66 | Kevon Rivers** | OL | 6-1 | 253 | Jr | Chicago, Illinois/Uplift Community |
| 67 | Eric Link* | OL | 6-3 | 275 | So | Aledo, Illinois/Sherrard |
| 70 | John Seaman* | DE | 6-5 | 240 | Fr | Munster, Indiana/HS |
| 72 | Mike Kautz** | OL | 6-4 | 265 | Jr | East Moline, Illinois/Alleman |
| 74 | Derek King** | OL | 6-1 | 290 | Jr | New Boston, Illinois/Westmer |
| 80 | Jordan Peart**** | WR | 6-0 | 200 | Sr | Bull Valley, Illinois/Marian Central |
| 81 | Jason Wagner**** | WR | 6-1 | 207 | Sr | Elgin, Illinois/Burlington |
| 83 | Derek Schneeman*** | WR | 6-2 | 190 | Jr | Streator, Illinois/HS |
| 85 | Tommy Harvey* | TE | 6-2 | 213 | Sr | Wilmette, Illinois/New Trier |
| 86 | Marty Resner** | TE | 6-2 | 240 | Jr | Montgomery, Illinois/Oswego |
| 88 | Nick Krantz** | WR | 6-1 | 195 | So | Moline, Illinois/HS |
| 89 | Keith Abbey*** | TE | 6-4 | 225 | Sr | Park Forest, Illinois/Rich East |
| 90 | Jacob Benner* | LB | 6-4 | 185 | Fr | Batavia, Illinois/HS |
| 97 | Matt Franzen*** | TE | 6-2 | 242 | Sr | Chicago, Illinois/Niles Notre Dame |
| 99 | Carl Hartweg* | DL | 6-3 | 270 | So | Carthage, Illinois/Illini West |