December 6, 2011
2011-12 Season - Vikings defeat Fontbonne 72-50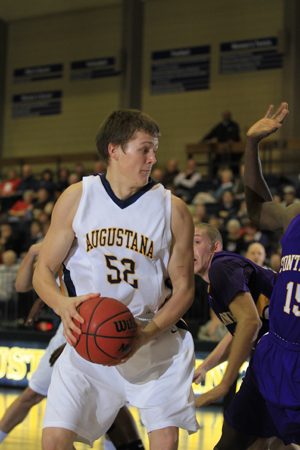 Junior center Brandon Kunz came off the Augustana bench Tuesday night for game highs of 14 points and seven rebounds in a 72-50 win over Fontbonne.
ROCK ISLAND, Ill.-Junior Brandon Kunz (Lake Zurich HS, Lake Zurich, Ill.) came off the Augustana bench Tuesday night and had game highs of 14 points and seven rebounds as the fourth-ranked Vikings defeated Fontbonne 72-50 at Carver Center. With the win, Augustana moves to 6-1 on the year. The Griffins drop to 1-5.
Senior Bryant Voiles (Byron HS, Byron, Ill.), who tied Kunz for game high scoring honors, dropped in a three-pointer from the right wing on the opening possession of the game to give the Vikings an early lead. After a Luke Scarlata (J. Sterling Morton HS, Berwyn, Ill.) layup made it 5-0, Fontbonne went on a 12-3 run to take a 12-8 lead. The Griffins' Eric Hamilton had five points during that stretch.
Augustana came back to take the lead briefly on a Kunz three-point play with 11:24 left in the half, but the visitors regained the advantage. A pair of Voiles free throws put the Vikings up 21-19 with 7:36 remaining until halftime, but five points from Ronnie Rust sparked a 7-3 Griffin run that tied the game for the last time, 26 all, at the 4:54 mark. Kunz, who finished six of seven from the field, answered with a bucket that gave Augustana a lead it wouldn't relinquish. The hosts went to intermission with a 35-29 advantage.
The Vikings pulled away in the second half, outscoring Fontbonne 37-21. The lead reached double digits for the first time, 42-32, on a Dan Jurgutis (Downers Grove South HS, Darien, Ill.) three-pointer from the right corner with 14:47 left and a Brian DeSimone (Buffalo Grove HS, Wheeling, Ill.) free throw at the 6:54 mark put it at 20 for the first time at 63-43.
After a first half in which they shot .370 from the field and .111 from three-point range, the Vikings bounced back to shoot .478 and .500 (4-8), respectively, in the second twenty minutes. Augustana also held Fontbonne to just six field goals in 26 second-half attempts for a .231 percentage.
The Vikings got six rebounds each from Kameron Norton (Downers Grove North HS, Downers Grove, Ill.) and George Dexter (Bettendorf HS, Bettendorf, Iowa) as they piled up a 44-30 edge on the glass.
Augustana will be back in action at Carver Center on Saturday, December 10, taking on 21st-ranked Wisconsin-Stevens Point at 7:30 p.m.