December 6, 2011
2011 Season - Holtrop, Moesle win MVP honors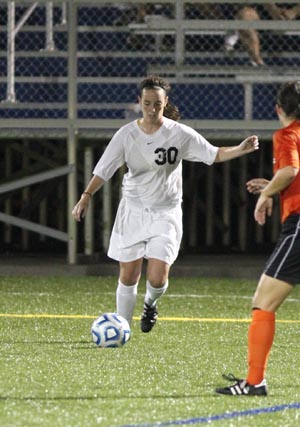 Senior Mary Pat Holtrop was selected as the most valuable defensive player for the Vikings in 2011.
Junior Taylor Moesle (Carl Sandburg HS, Orland Park, Ill.) was voted Offensive MVP and senior Mary Pat Holtrop (St. Charles North HS, St. Charles, Ill.) was voted Defensive MVP for the Augustana women's soccer team in the recently completed 2011 season. The Vikings' overall record was 11-8-1, with a 4-3-0 record in College Conference of Illinois & Wisconsin play, tying them for fourth place in conference. This season was Augustana's 10th straight winning season in conference play.
Moesle was the leading scorer for the Vikings with seven goals and eight assists for a total of 22 points. Two of her goals were game winning goals as the team outscored their opponents 40-20 on the season. Moesle's eight assist tie her for second on the single season top ten list. At the conclusion of her junior season, she is on the career top ten list for goals (28, tied for 7th), assists (17, tied for 3rd), and points (73, fifth). Moesle was selected as the CCIW Offensive Player of the Week on October 18 as well as being selected to the CCIW All-Conference team.
Holtrop was a key member of the stout Vikings defense that allowed only 20 goals in 20 matches this year. The Vikings shut out 10 of their opponents, including four CCIW opponents, and posted a 0.98 goals-against-average. Holtrop also scored one goal and assisted on another during the season.
Freshman Kimberley Grimmer (Downers Grove South HS, Woodridge, Ill.) was voted the most improved player. Grimmer appeared in 5 games and tallied one assist for the season.
Senior Jenna Doyle (Regis Jesuit HS, Parker, Colo.) received the Iron Viking Award. She appeared in 16 games and scored three goals on 20 shots.
2011 AUGUSTANA VIKINGS WOMEN'S SOCCER LETTER WINNERS
| | | | | | |
| --- | --- | --- | --- | --- | --- |
| NO | PLAYER | POS | HT | YR | HOMETOWN/HIGH SCHOOL |
| 0 | Kayla Radloff**** (C) | GK | 5-6 | Sr | West Chicago, Ill./HS |
| 1 | Bridget McDermott*** | GK | 5-7 | Jr | Mt. Prospect, Ill./HS |
| 2 | Jackie Luka* | M | 5-4 | Fr | Gurnee, Ill./Warren Township |
| 4 | Sabina Welcher** | B | 5-4 | Sr | Rockton, Ill./Hononegah |
| 7 | Margaret Hoscheit** | B | 5-6 | So | St. Charles, Ill./East |
| 8 | Taylor Moesle*** | M | 5-9 | Jr | Orland Park, Ill./Carl Sandburg |
| 9 | Holly Timm*** | M | 5-5 | Sr | Denver, Colo./Northglenn |
| 10 | Lisette Cuvala-Jurado* | M | 5-3 | So | Lombard, Ill./Glenbard East |
| 11 | Ashley Higuchi**** | F | 5-5 | Sr | Aurora, Colo./Smoky Hill |
| 12 | Morgan Olsen* | B | 5-3 | Jr | Woodridge, Ill./Downers Grove North |
| 13 | Allison Frickman** | M | 5-2 | So | Loveland, Colo./HS |
| 14 | Kelly Johnson**** | M | 5-5 | Sr | Flossmoor, Ill./Homewood |
| 15 | Bridget Shrigley** | M | 5-7 | So | Wheaton, Ill./Warrenville South |
| 16 | Megan Mummert*** | M | 5-7 | Sr | Crawfordsville, Ind./HS |
| 17 | Jenna Doyle**** | M | 5-5 | Sr | Parker, Colo./Regis Jesuit |
| 19 | Courtney Linn** | M | 5-8 | Jr | Bettendorf, Iowa/Pleasant Valley |
| 21 | Jessica Dodds**** | F | 5-8 | Sr | Marion, Iowa/Linn-Mar |
| 22 | Kirsten Boesen*** | M | 5-9 | Jr | Gibson City, Ill./Normal West |
| 24 | Erin Coulson**** | F | 5-1 | Sr | Hermosa Beach, Calif./Naperville Neuqua Valley |
| 26 | Briana Clark* | F | 5-6 | So | LaGrange, Ill./Nazareth Academy |
| 27 | Caitlin Winkelman**** (C) | M | 5-9 | Sr | St. Charles, Ill./North |
| 28 | Taylor Navarro* | M | 5-5 | Fr | Elmhurst, Ill./York |
| 30 | Mary Pat Holtrop**** (C) | M | 5-6 | Sr | St. Charles, Ill./North |
| 32 | Kerri Skotnicki* | B | 5-3 | Fr | Aurora, Ill./Waubonsie Valley |
| 34 | Hannah Klancic* | F | 5-6 | Fr | Aurora, Ill./Waubonsie Valley |
(C) - Denotes team captains
* - Denotes letters won