December 6, 2011
2011 Season - Westerberg and Fitzwater 2nd team all-region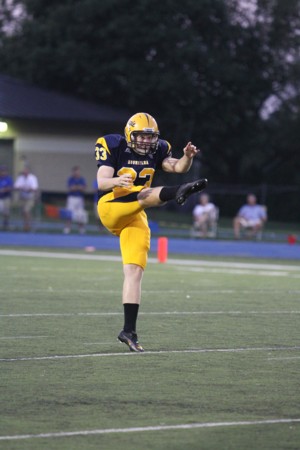 Junior punter Arnie Fitzwater, along with sophomore linebacker Erik Westerberg, has been named to D3football.com's All-North Region second team.
ROCK ISLAND, Ill. - Two Augustana Vikings have been named to the 2011 D3football.com All-North Region football team announced Monday. Sophomore linebacker Erik Westerberg (York HS, Elmhurst, Ill.) and junior punter Arnie Fitzwater (Union HS, Waterford, Wis.) were both second team selections.
Westerberg's 72 solo tackles this year not only led the Vikings, but his average of 7.20 per game ranked eighth nationally in NCAA Division III. He also led Augustana in total tackles with 106, giving him an average of 10.60 per game, which tied for 35th in the nation. He was a first team All-CCIW selection this year after leading the conference in both total (72) and solo (51) tackles. He was the league's Defensive Player of the Week after recording 14 tackles (13 solo) in a homecoming win over North Park on October 22. Westerberg's selection to the all-region team caps off a big week for him. It was announced Monday that he had been named to the Capital One NCAA Division III Academic All-America second team. Erik is the son of Annette and Peter Westerberg of Elmhurst, Illinois.
Fitzwater, after two years as a placekicker, moved to punter for the Vikings this season and ended up ranked 12th in the nation with an average of 40.5 yards per kick. He tied Jim Ogan's 44-year old school record with a 76-yard boot against Elmhurst on November 5 and earned first team All-CCIW honors after leading the conference with a 41.0-yard gross average in league play. His net average of 36.9 yards was also best in the conference. Behind Fitzwater's leg, Augustana ranked sixth in the nation in net punting with a 36.00-yard average. Arnie is the son of Don and Julie Fitzwater of Waterford, Wisconsin.
First Team Defense
Pos.Player School Yr. Hometown
DE Charles Dieuseul Mount Union Jr. Winter Haven, Fla.
DT Peter Bulandr North Central (Ill.) Sr. Long Grove, Ill.
DT Dan Terhune Wooster Sr. Chagrin Falls, Ohio
DE Ben Lockton Benedictine Jr. Grand Rapids, Mich.
LB CJ Gum Wabash Sr. North Judson, Ind.
LB Alex Thomas Muskingum Sr. Canton, Ohio
LB David O'Rourke Franklin Sr. Evansville, Ind.
CB Chris Greenwood Albion Sr. Detroit, Mich.
S Nick Driskill Mount Union Jr. Wabash, Ind.
S Rory Mannering Hanover Sr. Walton, Ind.
CB Josh Mitchell North Central (Ill.) Jr. Bloomington, Ill.
P Andy Dejong Allegheny Sr. Pittsburgh, Pa.
Second Team Defense
DE Derron Hamilton Baldwin-Wallace Sr. Euclid, Ohio
DT Dale English Case Sr. Middleburg Hts., Ohio
DT Justin Crosier Bluffton Sr. Columbus, Ohio
DE Clay Eaton Oberlin Jr. Findlay, Ohio
LB Danny Polaneczky Chicago Sr. Cincinnati, Ohio
LB-ERIK WESTERBERG AUGUSTANA JR. ELMHURST, ILL.
LB Zach Hurtt Wittenberg Sr. Fort Thomas, Ky.
CB Brecken Kennedy Manchester Sr. North Manchester, Ind.
S Josh McLeod North Central (Ill.) Sr. Lisle, Ill.
S Alex Ferrara Mount Union Sr. Independence, Ohio
CB Myron Puryear Trine So. Plymouth, Mich
P-ARNIE FITZWATER AUGUSTANA JR. WATERFORD, WIS.
Third Team Defense
DE JD East Wheaton (Ill.) Sr. Indianpolis, Ind.
DT C.J. Carroll Albion Jr. Warren, Mich.
DT Pat Clegg Wabash Jr. Clarendon Hills, Ill.
DE Ryan Jenkins Illinois Wesleyan Sr. Park Forest, Ill.
LB Andy Dalton Hanover Jr. Guilford, Ind.
LB Troy Spiker Capital Sr. Rootstown, Ohio
LB John Lesinski Albion Sr. Grass Lake, Mich.
CB Matt McWilliams Benedictine Sr. Belleville, Mich.
S Dan Calabrese Case Jr. Concord, Ohio
S Chad Coward Ohio Northern Sr. Shelby, Ohio
CB Colin Hartford Allegheny Jr. Fox Chapel, Pa.
P Aaron Kingcade Otterbein Jr. Worthington, Ohio
First Team Offense
Pos.Player School Yr. Hometown
QB Garrett Meador Wheaton (Ill.) Sr. Fishers, Ind.
RB Germany Woods Heidelberg So. Cleveland, Ohio
RB John Borsellino Benedictine Jr. Oak Brook, Ill.
WR Josh McKee Wittenberg Sr. New Carlisle, Ohio
WR Trey Fairchild Otterbein Sr. Dublin, Ohio
TE Kyle Fiedorowicz North Central (Ill.) Sr. Johnsburg, Ill.
T Antonio Tate Mount Union Jr. Cleveland, Ohio
G Lewis Brown DePauw Sr. Poway, Calif.
C Brett Ekkens Mount Union Sr. Kentwood, Mich.
G Nick Schultz Franklin Jr. Lowell, Ind.
T Devin Martin John Carroll Sr. Pittsburgh, Pa.
K Scott Roche Wheaton (Ill.) Sr. Evergreen, Colo.
RET Wes Chamblee Wabash Sr. South Bend, Ind.
Second Team Offense
QB Jonny West Franklin So. Avon, Ind.
RB Scottie Williams Elmhurst Jr. Woodridge, Ill.
RB Kyle Kovach Rose-Hulman Jr. Munster, Ind.
WR Matt White Capital Sr. Mason, Ohio
WR Teddy Watkins Wheaton (Ill.) Sr. Washington, Mo.
TE Matt Robinette Hanover Sr. Otwell, Ind.
T Weston Kitley Wabash Jr. Indianapolis, Ind.
G Peter Stamos Elmhurst Sr. Portage, Mich.
C Nick Capristo North Central (Ill.) Sr. Aurora, Ill.
G Joe Guenther North Central (Ill.) Jr. Shorewood, Ill.
T Jace Werkheiser North Central (Ill.) So. Freeport, Ill.
K Sean Williams Wittenberg Jr. Plainfield, Ind.
RET Taylor Wagner DePauw Jr. Carmel, Ind.
Third Team Offense
QB Devin O'Brien John Carroll Sr. Brookfield, Ohio
RB Clinton Orr Albion Jr. Buchanan, Mich.
RB James Clay Mount St. Joseph Jr. Cincinnati, Ohio
WR Jasper Collins Mount Union Jr. Geneva, N.Y.
WR Kyle Linville Franklin So. Speedway, Ind.
TE Andy Cessna Defiance Sr. Warren, Mich.
T Jeff Ketchum Rose-Hulman Sr. Cincinnati, Ohio
G Matt Mattox Mount Union Jr. St. Joseph, Mich.
C Colin Gallagher Franklin So. Valparaiso, Ind.
G Patrick Sterk Benedictine Jr. Royal Oak, Mich.
T Chris Ogston Albion So. Eaton Rapids, Mich.
K Kyle Evans Manchester Jr. Winamac, Ind.
RET Dee Brizzolara Chicago Jr. Aurora, Ohio