Lessons and Carols: The story of Christmas in word and song
December  05, 2011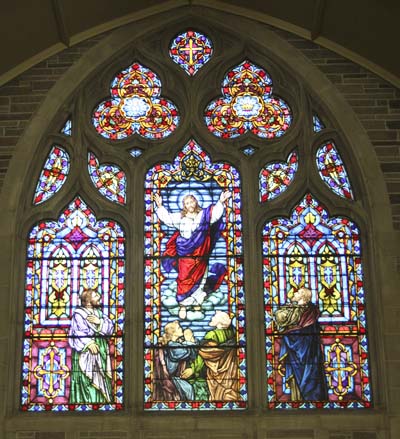 Inside Ascension Chapel
The Augustana Chamber Singers and Office of Campus Ministries will present the beautiful, traditional Christmas service Lessons and Carols on Thursday, Dec. 15, at 4 p.m. and 8 p.m. in Ascension Chapel inside Founders Hall (820 38th St.). The Quad-Cities community is invited to share in this free gathering, which honors Christ's birth through songs and Scripture readings.
"Lessons and Carols is an Augustana tradition," said Campus Chaplain Richard W. Priggie. "This year's service will include music by the Augustana Chamber Singers and the Augustana Handbell Choir." The service is split between nine "lessons" — biblical passages that chronologically lead to Jesus' birth — and carols performed by student groups and the audience. Eight senior students in the campus ministries program will deliver readings and one reading will be shared by Dean and Chief Academic Officer Pareena G. Lawrence.
"At the end of the service, the audience will be invited to sing Silent Night by candlelight, an annual part of Lessons and Carols and a longstanding tradition throughout the Christian world," said Pastor Priggie.
The Handbell Choir, which is open to all Augustana students, will perform prelude music for the service and accompany the singing of Silent Night. The Handbell Choir is directed by Larry Peterson, campus ministries' director of music.
The Chamber Singers is a highly selective choral ensemble, which performs under the direction of Dr. Jon Hurty, professor in music and director of choral activities. They will perform an assortment of traditional and lesser known Christmas hymns, including a few with audience participation.
Lessons and Carols does not require tickets or reservations. However, community members are advised to arrive 20 to 30 minutes before the start of the service, since seating can be limited.
Sam Schlouch
Senior Communication Director
(309) 794-7833
samschlouch@augustana.edu