December 5, 2011
2011 Season - Westerberg named Academic All-American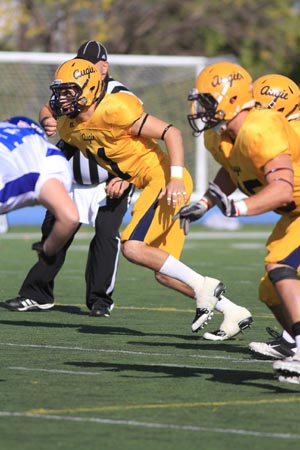 Sophomore linebacker Erik Westerberg was named to the Academic All-American team on Tuesday, December 6. He is the 136th Academic All-American in Augustana history.
(Video: Erik Westerberg explains how he balances athletics and academics)
Add the name of Erik Westerberg (York HS, Elmhurst, Ill.) to the Academic All-American legacy at Augustana. The sophomore linebacker became the latest in a long line of decorated student-athletes when he was named to the Capital One NCAA Division III Academic All-American team, as selected by the College Sports Information Directors of America, it was announced today.
Westerberg was a second team selection on the elite team and the lone sophomore on the NCAA Division III squad. In fact, there were Academic All-American teams named at four levels (NCAA I, NCAA II, NCAA III, NAIA) and of the over 200 players honored, only eight were sophomores.
Westerberg was a stalwart performer on the Vikings defense this fall, drawing starts in all 10 games. He led the team in tackles with 106, including 72 solo stops. He led the College Conference of Illinois & Wisconsin with 72 total tackles (10.3 per league game) and 51 solo stops and he ranked seventh in the nation in NCAA Division III with an overall average of 7.20 solo tackles per game. He had 34 assisted tackles, two tackles for loss and one interception.
He was a first team all-conference selection in the CCIW and earlier this season he was named the "Defensive Player of the Week" in the CCIW when he compiled 14 tackles, 13 solo, in a 27-24 victory over North Park on October 22.
As a freshman in 2010, Westerberg had 36 total tackles (13 solo and 26 assists) with two tackles for loss, one quarterback sack and one pass interception. He was named the Vikings' "Defensive MVP" at the end of the season.
Westerberg sports a 3.89 grade point average with majors in math and business administration. He is an active member of the Athletes Giving Back program on the Augustana campus. He has volunteered at the humane society and helped last year at a banquet in Davenport, Iowa for senior citizens.
Augustana has long been a leader in producing Academic All-Americans under the program that is run by CoSIDA. The Vikings rank sixth all-time with 136 Academic All-Americans since the program began in 1952. Augustana is second in NCAA Division III, trailing only the Massachusetts Institute of Technology. Of those 136, 28 have been football players.
Westerberg is the son of Annette and Peter Westerberg of Elmhurst, Illinois.